Freshman surprised by reunion with brother in the Army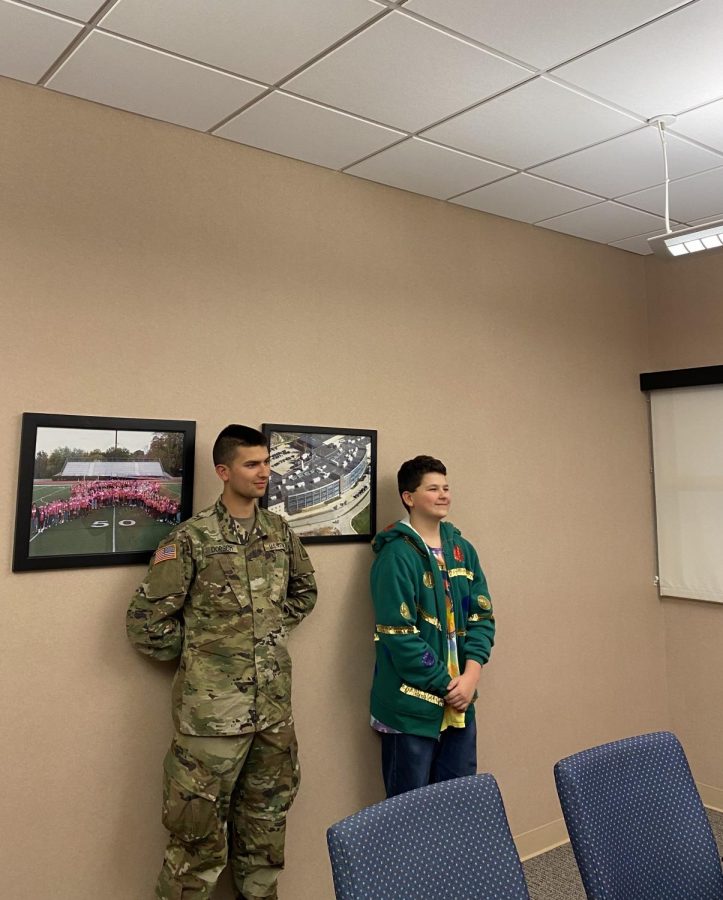 When freshman Alex Dorsch was called down to the office during eighth period on the last day of school before Christmas, he thought he was in trouble for breaking up an argument today in an earlier class. 
Instead, he received a holiday reunion with his brother, Liam, a Class of 2019 grad who is in the Army. William Dorsch, the boys' father, had picked up Liam Dorsch at the airport and brought him to the high school as a surprise for Alex.
The surprise was Liam Dorsch's idea, but his father put the plan in motion by calling the main office. Administrators agreed, and Alex Dorsch was called to the office and sent back to Assistant Principal Jon Peebles' office, where Liam and William were waiting.
While the brothers were happy to see each other, Liam at first joked about the ugly Christmas sweater that Alex was wearing.
"No seriously, what are you wearing?" Liam asked.
Liam had shipped out to the Army on June 30 and had not been home since then. His younger brother was glad to see him return. 
"I'm proud of him doing what he wants to do," Alex Dorsch said.
Liam Dorsch is a combat medical specialist in the Army. He reported that basic training lived up to its reputation as being a real challenge.
"It was intense and parts of it sucked," Liam said. "But it was a good life experience."
William Dorsch, who also served in the Army, said he is immensely proud of Liam. 
"As a parent it's good you see your kids better themselves and give themselves a future," William Dorsch said. "I am very proud of him."
Assistant Principal Jon Peebles, a Marines veteran, said he was glad to see the family reunited.
"We wanted to do anything we could, especially for those who serve and save this great nation." Peebles said.
About the Contributors
Adam Goldsboro, Multimedia Editor
Adam Goldsboro is a senior Multimedia Editor in his third year on staff, and he can found on the soccer field or the basketball court.


Ethan Coulehan, Staff Writer
Ethan is a senior and a second-year staff writer. When he's not writing really good headlines, he is talking about sports.


Caden Harsh, Staff Writer
Caden is a senior and a second-year staff writer. When he's not pointing out the flaws in the new Star Wars movies, he can be found on the track or debating...