It's beginning to look a lot like pollution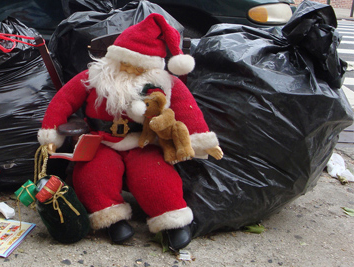 The holidays are a time for family fun and gift giving. But now that the season is over, people will throw away over 5 billion pounds of unwanted gifts.
There are many options for getting rid of unwanted gifts. A great way to give back is to donate.
Charities such as Toys for Tots and Goodwill will accept donations, and less fortunate people can benefit from a gift that was once unwanted. If people are unable to donate, a gift can always be regifted, because someone can always benefit.
Gifts can also be returned or exchanged for something that is actually wanted. While this does seem like a harder option, especially when the gifter is a close family member or friend, it is always better to avoid wasting at all costs. 
On average, people produce 25 percent more waste during the holiday season. This is due largely to things like wrapping paper and ribbon. In fact, the amount of wrapping paper used and thrown out during the holiday season could cover 5,000 football fields. 
Even Christmas cards are thrown out every year.
A good way to reduce some waste is to simply recycle. Not everything can be recycled, but it is important to be aware of what can be, and to recycle as much as possible. 
Another culprit of holiday garbage is food waste. Nearly 100 pounds of food waste is generated per person over the holidays. It's hard to justify that much food waste when people all over the world are starving. 
Food waste is one of the trickiest types of garbage to recycle, but several programs throughout the United States have been created to reduce food waste, and even to feed the less fortunate.
The holidays should be a time for celebration, but it should not be a time to throw out all morals and values, along with the trash.