Frozen 2 proves to be a great sequel to the original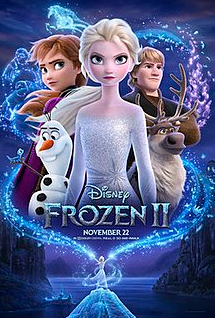 It's been a long six years since the world was introduced to two strong, independent female leads and the anthem "Let it Go," but the wait for the sequel, Frozen 2, is definitely worth it.
The movie is action-packed, as the unique storyline explores a journey to a closed-off enchanted forest, which uncovers the truth about Arendelle's dark past and the origins of Elsa's ice powers.
All the beloved characters from the first movie — Anna, Elsa, Kristoff, Sven, Olaf, and even the iconic "Yoo hoo big summer blowout" store owner, Oaken — make an appearance. There are some adorable new characters as well.
There really is not a dull moment. The movie takes viewers through an array of emotions with some suspenseful and tear-jerking moments, lightened up by Olaf's perfectly timed witty jokes.
While there are some predictable aspects, they do not take away from the film's exciting plot, as there are enough unexpected events to offset them and keep the audience engaged.
The songs in the sequel are beautifully written and have magical lyrics. The voices of Idina Menzel and Kristen Bell are incredible as always.
Most songs, though, are softer, more mellow, and not as catchy as those on the soundtrack of the first movie. There is not a single song that really stands out from the others or that lives up to the caliber of the empowering hit "Let it Go."
Frozen 2 does not just appeal to young children. It's certainly an enjoyable hour and 45 minutes for teenagers and adults too.