Golf swings into new facility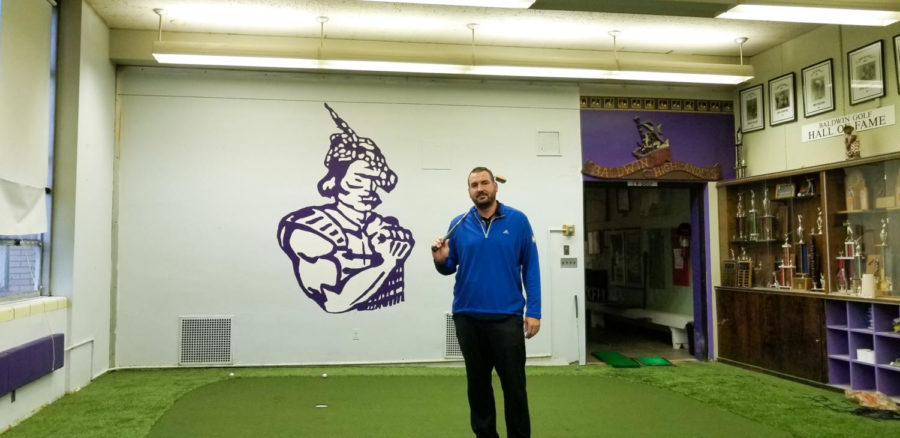 A major improvement project at the golf team's practice facility in the Wallace building will provide another boost for the Highlander golf program.
The team is putting in a new, state-of-the-art putting green, which will join the golf simulators and sand bunker as tools for golfers to work on their game.
Head Coach Steven Sinning said the team raised all of the $6,000 needed for this addition on their own.
"We didn't even think to ask the school for money. We knew we could handle it on own," Sinning said.
The new putting green is much larger than the old one: 18 by 43 feet, instead of the 12 by 20 dimensions of the old one.
Sinning said the new green will provide better training for the players.
"The new green has a more realistic slope. It is going to give a better look to our players and give them a better feel of the different rolls," Sinning said.
Junior Connor Woods said the golf facility gives the team a considerable advantage over most of the other teams in the section.
"I don't know if any other school has the facility we have," Woods said.
The indoor facility has other advantages as well.
"It's fun to be able to get better year-round and to never have to worry about the weather," Woods said. "It just gives us that much more of an advantage."
Sinning said the team is trying to make the facility open to the public on Saturday mornings as a way of saying thanks to the South Hills Country Club for allowing the team to use the country club course for free.
"It is still in the works, but we want to give back to the people who give us so much," Sinning said.
Sinning said he is hoping for the facility to return to the prestigious status it had several years ago.
"When Mr. Stanko was the coach, the facility was one of the best in western Pennsylvania, and I think we're heading back into that direction," Sinning said.
Sinning wants to name the new facility in Jim Stanko's honor. There will be a grand opening on Nov. 23.
About the Contributors
Colton Brain, Staff Writer
Colton is a senior and a third-year staff writer. He is a big sports fan and especially loves football and baseball. He loves to give his takes on the...
Astrid Senko, Multimedia Editor
Astrid Senko is a second year staff writer and a first year multimedia editor. She is a drum major and a full time band nerd. When she is not on the field...