This is why I have sworn to serve in the military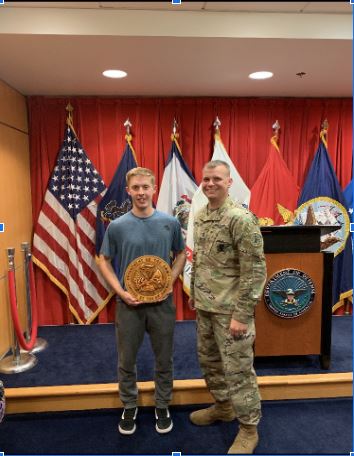 These are the most important words I have ever spoken: "I, Adam Goldsboro, do solemnly swear to support and defend the Constitution of the United States."
Those words only took a few seconds to say, but it was a long path to saying them. Only about 0.4 percent of Americans ever serve in the military, and I am honored to be a part of such a prestigious group. 
I'm not going to lie: The money is what first attracted me to the military. I thought that I did not want to be $50,000 in college loan debt at age 22. I heard the Army pays for college, so I went to a career night at the high school and talked to a recruiter for the first time.
That was the end of my junior year, so I had the whole summer to meet with my recruiter and really try to figure out my future. I didn't tell anyone about those meetings until the start of this school year, when I finally told my parents that I was thinking about joining. 
"
I'm not going to lie: The money is what first attracted me to the military."
They reacted exactly how I thought they would react.
They both thought I could do something better with my life and asked why it would have to be me volunteering to serve. Ultimately, my parents told me to take some time to seriously think about what it means to be a soldier.
They wanted to make sure I was not enlisting just for the money, but rather that I was in it for the right reasons. 
I took about a month to think. I realized that I wanted to do more in life. I wanted to make a difference.  
Then, I told my parents how I wanted to protect something bigger than myself. Luckily for me, they fully backed my idea after I assured them I am still going to go to college. 
Actually, now they seem more into the Army idea than I am sometimes.
Some of my friends, though, would ask me questions like: "You know you could die, right?" or "So you're just going to leave your family and friends?"
The simple answer is yes. I know I could be hurt or worse, but if other people in the military sacrificed their lives for me, I'm willing to do the same.
It's not just the ones who gave their lives. It's also the ones who came back missing arms and legs or with damaged minds. 
Another question I'm asked all the time is, "Aren't you scared?"
I would be lying if I said I wasn't. But I know that whatever comes with the Army, my brothers and sisters in the service will be there with me.
About the Contributor
Adam Goldsboro, Multimedia Editor
Adam Goldsboro is a senior Multimedia Editor in his third year on staff, and he can found on the soccer field or the basketball court.