Sports fans should watch Pitt volleyball to see a successful team play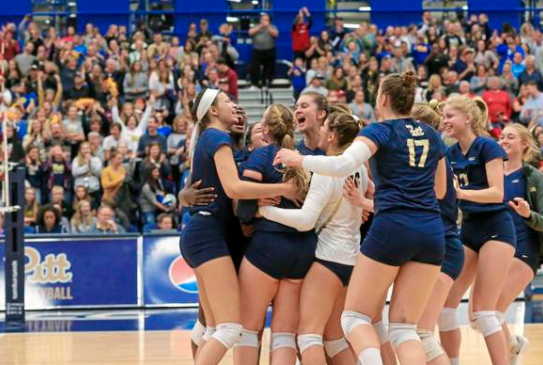 Lately, a Steelers or Penguins win is hit or miss and the Pirates are a lost cause, but Pittsburgh sports fans are not completely out of luck. They should just watch Pitt women's volleyball instead.
Pitt's women's volleyball team is currently ranked No. 2 in the NCAA, with just one loss on the season. This is the highest ranking in the program's history and the highest ever by an ACC team.
With the launch of the new ACC television network, watching volleyball matches has become more accessible. It gives longtime fans and also an influx of newcomers the ability to follow the team.
Even those who have never watched volleyball before should give the high-energy, fast-paced game a try.
 It's definitely more entertaining than baseball, where spectators wait light years for a pitcher to get in his stance, glance back at the first-base runner, and then throw the pitch — just for the batter to watch it go by and then they have to restart the whole process again.
In volleyball, it's just a quick pass, set, and then a powerful swing by Pitt's Chinaza Ndee or Sabrina Starks for a kill.
While Pitt is not perfect in every volley, the team's ability to rally back keeps viewers invested. Pitt dominates most of its competitors, often sweeping them 3-0.
With the Pitt vs. Penn State football games coming to an end, fans who want to continue the big in-state rivalry should watch women's college volleyball. Pitt's only loss on the season was to No. 7 Penn State, just after Pitt had beaten Penn State the night before.
While this is the biggest season Pitt has ever had, its winning record is no oddity. Since the women's volleyball program was established in the 1970s, Pitt has only had four losing seasons.
Pittsburgh sports fans should celebrate these phenomenal female athletes and give them the support they deserve.