Musical Normal-C considers who gets to define 'regular'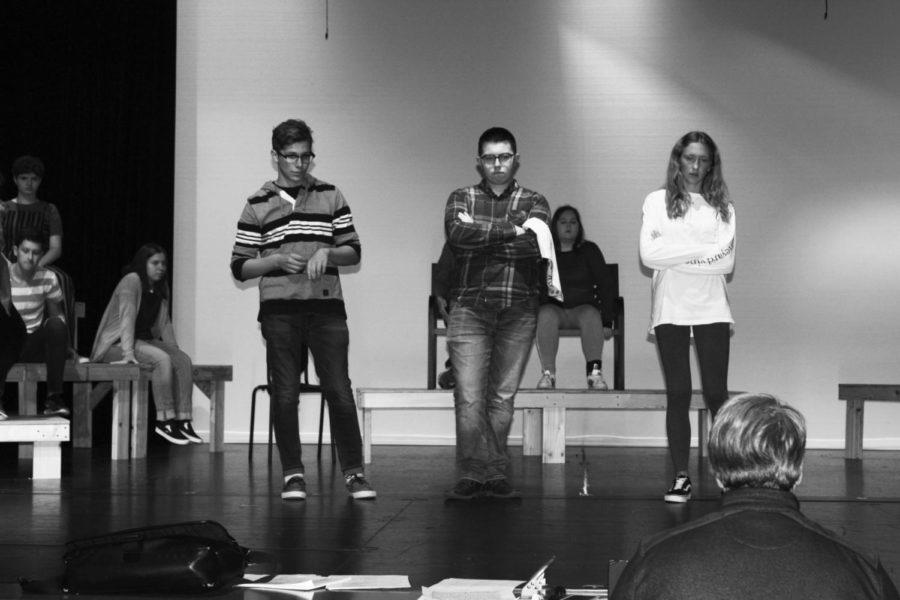 Instead of a fall play, this year the Baldwin Drama Club chose to present a fall musical titled Normal-C, which shines a spotlight on young people with special needs.
The show was co-written by Jason Coll, drama club sponsor and director of Baldwin's fall and spring productions. It was commissioned by Beacon College, a school in Leesburg, Fla, that focuses on teaching people with specific learning disabilities, in honor of the school's 30th anniversary.
The story focuses on three high school students with disabilities who participate in a clinical trial for a drug that claims to make them "normal," but the results vary from person to person. The medicine starts to affect their personalities in a variety of ways.
Normal-C highlights Asperger syndrome, dyslexia, and high-functioning, non-verbal autism.
"I think exploring characters who have learning disabilities or autism, which this show explores, helps to take some of the mystery or outside stigmas away from such kids by putting them in an honest light to show that they're just like 'mainstream students' in so many ways," Coll said.
Coll, who also will have other original works premiering this year at Point Park University and Civic Light Opera, produced the music and lyrics for Normal-C, as well as directing the show.
Normal-C runs Nov. 7-9 in the school's auditorium.
"It's not on the scale of the spring musical. It's more intimate," Coll said. "I think that the show is going to deliver a poignant, beautiful message that there really is no 'normal' in this world. We are all unique beings," Coll said.
Senior Bradyn Stephenson was at first hesitant about the show but was quick to change her mind.
"I think going into the musical we were all a little nervous because the show touches a really sensitive subject. But seeing the story grow and change is just so touching and amazing. I am very excited to see how the audience reacts," Stephenson said.
Junior Chris Storms said he also was excited about the production.
"I was expecting a play, but when I heard it was a show that Jason helped write, I was intrigued," Storms said. "After we had a first rehearsal, I had a good feeling about this show."
Stephenson agreed.
"After working so hard on this performance I really think that everyone will enjoy watching it and will eventually fall in love with these quirky yet beautiful characters," Stephenson said.
About the Contributor
Sarah Watkins, Staff Writer
Sarah Watkins is a senior and a second-year staff writer. She can be found in the Taco Bell drive-thru listening to Slayyyter. She also enjoys binging...