Football earns big win over Bethel Park in double overtime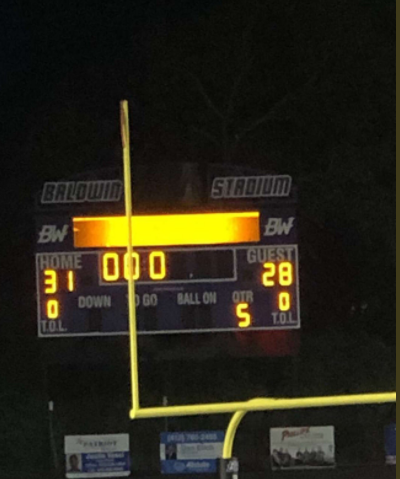 With a visit from the 1999 conference championship team providing inspiration, this year's football team made a bit of its own history on Friday by defeating Bethel Park for the first time in 20 years.
The homecoming game victory came in double overtime, by a score of 31-28.
Quarterback Mason Stahl said the 1999 team visited the Highlander locker room before the game, encouraging the team and giving them motivation, and then headed out to join the crowd.
"It was amazing to see all of those guys in the stands cheering us on," Stahl said. "They definitely gave us a ton of confidence for the game."
Senior Naseer Penn said this win was not an easy one.
"It was a close game, but we had a lot of fun," Penn said. "We all had to play with the best of our abilities to come out with the win."
Stahl said that even though the team blew a 21-7 lead in the fourth quarter, they never lost hope.
"It was hard giving up that lead, but we remained confident throughout the rest of the game despite that," Stahl said.
With the win, Baldwin has officially claimed a spot in the playoffs. 
"I've never been to the playoffs before, so I'm very excited for the experience," Penn said. 
Stahl shared in Penn's enthusiasm.
"We are feeling great moving forward," Stahl said. "We are on a good streak and we hope to continue it in the playoffs."
Baldwin's next game is against Penn Hills, which is a non-section opponent, but the outcome of the game could affect the seed that they receive in the playoffs
About the Contributors
Mason Hurley, Staff Writer
Mason Hurley is a junior and second-year staff writer. He always has a clean pair of Jordans, Nikes, Adidas, or Yeezys on, and may be seen in bright yellow...
Lena Barakat, Sports Editor
Lena Barakat is a sports editor and this is her second year on the Purbalite. She likes listening to The Smiths, Amy Winehouse, and Talking Heads. When...