Peebles returns as BHS assistant principal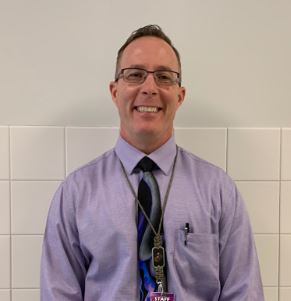 Baldwin's new assistant principal isn't new to the high school or the students here.
Students who remember the "Spirit Stick" will be excited to hear that Jon Peebles is coming back as assistant principal for Baldwin.
"I'm looking forward to working with the staff," Peebles said. "The staff is second to none."
Peebles worked as a teacher at the high school before becoming an assistant principal here. He later moved to Harrison Middle School. Now, he is returning to replace Assistant Principal Joe Sebestyen, who is leaving for an assistant principal position in Hampton.
"It was bittersweet having to move up to the high school again," Peebles said. "I'll miss the middle school."
Peebles said he is approaching the new assignment just as he did when he first moved to the middle school: by drawing on the philosophies that he developed during his time in the Marines.
"I'm here to serve wherever the district needs me," Peebles said. "Marines adapt and overcome."
Peebles said he is looking forward to working closely with the teachers and, most importantly, the students.
"It's your school, and we're here to support your initiatives," Peebles said. 
About the Contributors
Pratiksha Timsina, Staff Writer
Pratiksha Timsina is a sophomore and a second-year staff writer. She can either be found listening to music, procrastinating, or discussing astrology....
Alli Schroeder, Multimedia Editor
Senior Alli Schroeder is a multimedia editor in her third year on staff. When she is not writing, she can be found making her own clothes or earrings,...