Foreign films deserve more recognition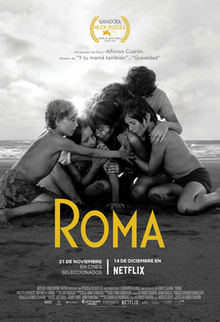 Most teenagers are immediately turned off by the idea of foreign films. Many adults even seem to be scared of subtitles, thinking that reading takes the enjoyment out of viewing a movie. People like this are missing an entire part of the film industry and incredibly meaningful films simply because they do not want to read.
This year the Netflix original film Roma not only got nominated for best international feature film but also for best picture overall in the Oscars. Roma ended up winning best international feature film this year but it is quite rare for a film to even be nominated in both categories.
Pan's Labyrinth is a Spanish film directed by Guillermo del Toro, who directed the 2018 Oscar best picture winner, Shape of Water.  It is not as well known to the general public but is considered influential to the entire film industry. It won Academy Awards for best production design, best cinematography, and best makeup and hairstyling in the 2007 Oscars.
Studio Ghibli is an internationally known film company from Japan. Even in the United States many recognize and enjoy movies such as My Neighbor Totoro and Spirited Away, which were also released in the U.S. with an English dub rather than in Japanese with subtitles. The issue with this is the translation can sometimes be off and some entre aspects of the film can be lost.
Similarly, the Korean film Oldboy, originally made in 2003, was remade as an English release 10 years later. Spike Lee directed the U.S. remake, which did terribly and was seen by many critics as pointless and incomparable to the original.
The original Korean version, on the other hand, is considered by some to be one of the best foreign films of all time and is received significantly better than its English remake.
For people who consider themselves fans of film or even those who simply enjoy watching movies, it is important to be exposed to foreign films to truly experience the industry and what a well-made film can do.