O'Malley twins lead Highlanders at WPIAL track championships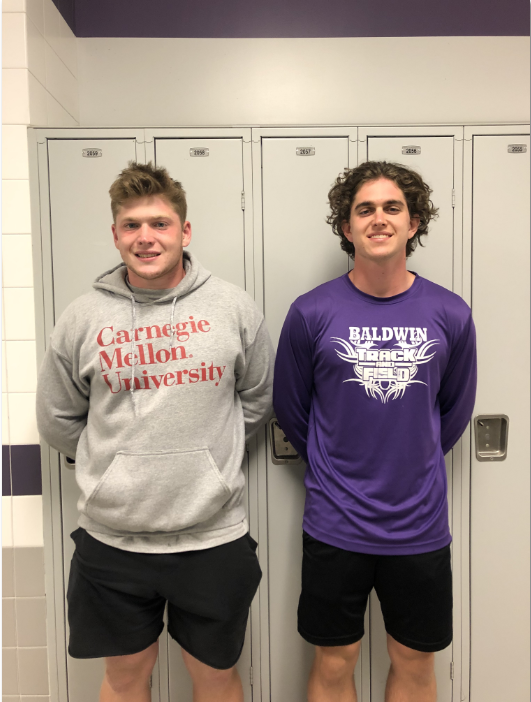 Athletes from Baldwin's track team had a big day at WPIAL championships on Thursday, led by senior twin brothers Brendan and Bailey O'Malley.
Brendan O'Malley won three gold medals, finishing first in the 200 meter dash, the 400 meter, and the long jump. He was also a bronze medalist as part of the the 4×100 meter relay team, which also included juniors Naseer Penn, Jarren Kelly, and Angelo Priore.
"I was amazed to have a great day and how I was able to perform so highly in my last WPIAL meet," Brendan said.
Bailey O'Malley had a great day as well, earning a gold medal in the shot put and placing fifth in discus.
"It feels good to end my senior year as a WPIAL champion and I'm happy to leave my mark at Baldwin," Bailey said.
There were more honors for the Highlanders as well. Penn earned a silver medal in the triple jump and placed seventh in the long jump, while senior Jason Depretis placed seventh in discus.
Additionally, the girls 4×800 relay team, consisting of freshman Kaylee Garofalo, sophomore Lena Barakat, and seniors Devon Schroeder and Macy Hale, finished seventh.
Up next for the O'Malleys, Penn, and the boys 4×100 relay team is the state championship at Shippensburg University.
"I want to beat my personal record and I want to move up from where I stood last year," Bailey O'Malley said.
His brother has a similar attitude.
"My goal is to win and break my personal records," Brendan said.
About the Writer
Andrew Golvash, Staff Writer
Andrew is a senior and a first-year staff writer for the Purbalite. He enjoys playing hockey and he can be found saucing biscuits and wheeling hard all...