Dancers breaking body image stereotypes with new routines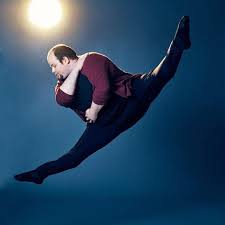 More dancers are posting videos online and gaining fans — both for their amazing dance moves and because they have body types that don't fit the stereotype for dance.
Erik Cavanaugh went to Pittsburgh CAPA and Slippery Rock for dance. At SRU, there's a performance where dance majors and minors will show their choreography. Having seen some of his performances, I can say that Cavanaugh put on an outstanding show.
Several years after graduating, Cavanaugh made a video of himself dancing in four-inch heels. People couldn't stop watching this 2018 video, since they were impressed by what Cavanaugh can do. He was such an inspiration that he was on one of the 'Snapchat' stories: 60 Second Docs.
Amanda Lacount, meanwhile, has her own hashtag to encourage fans to be confident in themselves. Lacount dedicates her life to dancing. She loved watching her sisters perform and wanted to be on stage. When she was younger she started dancing in competitions.
Dance allows her to tell her own story, especially through videos posted with her hashtag, #BreakingtheStereotype. When people tell Lacount they enjoy her dancing, she says it makes her happier with what she's doing while motivating others to dance more.
Lacount wants to own a studio when she stops professionally dancing. She also wants to choreograph for a movie, TV show, or an artist.
The Pretty BIG Movement, founded by Akira Armstrong, is an international hip-hop, jazz, afro, and contemporary dance company comprised only of full-figured dancers. The goal for the Pretty BIG Movement is to show everyone powerful, talented, and stunning dancers for who they are.
The group began as a healing and support group for people who have been fat-shamed. No one expected these dancers to make it. These stars proved everyone wrong with their positivity and passion.
Cavanaugh, Lacount, and Pretty BIG Movement are indeed "breaking the stereotype" about dancers' bodies. They agree that if people believe in themselves, they can accomplish their goals. The stars aren't just doing this for themselves but for others, including dancers who have been overlooked because of the stereotype.
About the Contributor
Sarah Bagay, Staff Writer
Sarah is a junior and a first-year staff writer. She participates in Baldwin's choir and Baldwinaires, and she also can be found writing one of her many...