Incoming principal ready to make an impact at Baldwin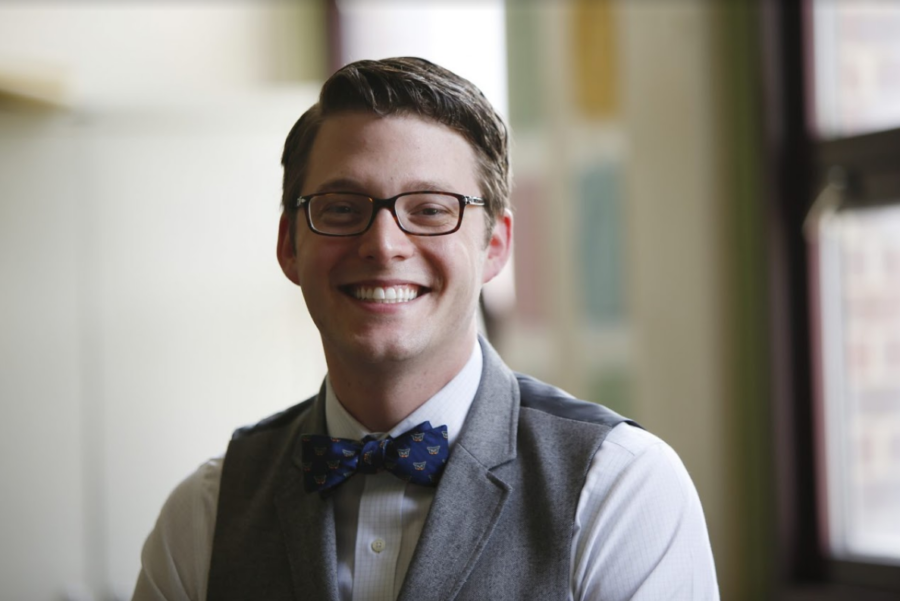 Shaun Tomaszewski wants Baldwin High School to be a place where all students feel like they belong.
"I hope to make sure that every single student in the school knows that they are cared for — that Baldwin High School is a place where they belong, where they can thrive, and they can come to realize a better version of themselves that they don't even know is possible yet," Tomaszewski said.
Tomaszewski was hired Wednesday night by the school board to take over as principal of Baldwin for the upcoming school year. He will replace Dr. Walter Graves, who is retiring at the end of this school year.
While Tomaszewski believes that schools need to support and nurture students, he said students also need to be able to learn when they don't make the right decisions.
"The past 10 years have shown me that kids make mistakes. But it's our jobs as adults to show them that if you want to be successful in your future, you have to comport yourself with a certain propriety," Tomaszewski said.
Tomaszewski said his educational philosophy is that learning happens best when it is project-based, culturally responsive, and cross-curricular. He also said he supports asynchronous learning, a student-centered approach in which learning can happen outside the 45-minute class period.
"I think project-based learning comes alive when the assessments are authentic. I like to get kids out into the community and pull the community into the school, instead of just traditional testing," Tomaszewski said.
But he said that while he supports new developments in education, his first priority will be to learn about Baldwin.
"Every time I come into a new setting, I like to sit back and listen. I'm not going to come in and try to change anything when I first get to Baldwin," Tomaszewski said. "I want to see what the culture's like  — what being a student or a teacher at Baldwin High School really looks and feels like."
Tomaszewski enters with a varied background in education. He currently is the director of curriculum and assessment at Northgate School District, and previously was a science teacher and science department chair at Mount Lebanon, and the K-12 STEAM coordinator for Pittsburgh Public Schools. He also teaches at the University of Pittsburgh, where he is working on his Ph.D.
He said his involvement in science has influenced his perspective on learning. While he was the grades 6-12 science department chair at Mt. Lebanon, he wrote a new Scientific Investigation course that exemplified his enthusiasm for independent and project-based learning.
Then while he was at Pittsburgh Public Schools, he worked with a group of fifth-graders who chose to take stand against violence in their community as a learning project, he said.
"They planned a community-wide march, and instead of typical worksheets and packets, the kids were talking to the mayor and working with city planning," Tomaszewski said.
Originally, Tomaszewski was going to school to become a physician, but after a two-year volunteer internship at Children's Hospital during his undergrad time at Pitt, he decided he did not want to pursue a career in medicine.
"I never liked the types of relationships that clinicians need to form with their patients, super intimate and fast. It freaked me out," he said.
During his sophomore year at Pitt, he was a teaching assistant in the chemistry department. A couple of months later, he was a teaching assistant in biology. Through these experiences he fell in love with education, he said.
Tomaszewski's versatility and experiences caught the eye of district administrators as they began the process of finding a new principal.
Superintendent Dr. Randal Lutz said he was looking for clear communication, visibility, relatability to students, and active management as qualities in an applicant for the principal job, and Tomaszewski met those standards.
"He was not the typical candidate. He has experience at all levels, in both city and suburban areas," Lutz said. "What I saw in him was his ability to be adaptable, to really respect and embrace the faculty as the true experts they are, and the work they do."
Lutz said that before the interview, Tomaszewski wanted to research and take in the culture of Baldwin. He came to watch the musical, Mame, where he noticed not just the actors on stage but also the football players who were working as ushers.
Lutz and Tomaszewski are excited to work together and move forward to modernize Baldwin. Lutz pointed out that Baldwin has had the same eight-period bell schedule since the 1960s, when his father went to school here.
"Right now school is organized around the kids who break the rules. There should be more independent opportunities for the responsible students who make good grades," Lutz said.
Lutz and Tomaszewski both see value in an advisory period that will allow teachers to get to know their students better.
Tomaszewski particularly liked the homeroom system at Mt. Lebanon because of the great student-teacher bond that resulted. Students had the same homeroom teacher all four years, and that teacher also read their names at graduation.
"He's going to bring high energy to Baldwin. He'll be a great complement to the team, and I expect great things," Lutz said.
While the recommendation to hire Tomaszewski was made by top-level administration and the decision was made by the school board, a panel of students and a second panel of teachers also interviewed all six finalists for the job.
Physics teacher Rachel Neil was on the teacher panel. She said there were several things about Tomaszewski that impressed her.
"He was very intelligent, and very passionate. It seemed like he sincerely cared about Baldwin, even when he had no vested interest," Neil said. "It was really impressive that he really wanted to know about our students and the teachers."
Library media specialist Brigetta Del Re, who also was on the teacher panel, agreed.
"I think he will be an absolute breath of fresh air, given that he's young and extremely energetic," Del Re said. "His personality is engaging. He's interested in knowing you and talking about what is important to you as a student, teacher, custodian or cafeteria worker, and building relationships.
She added, "It was clear to the panel that he is intelligent and hard working."
Social studies teacher Katie Temme, another teacher on the panel, also said Tomaszewski was impressive in the interview.
"He has a lot of great ideas and a diversity of experience in education. I thought he interacted with the students really well," Temme said.
Junior Lexie Kennard, who was part of the student interview panel, also said Tomaszewski made a good impression.
"He was so personable. His resume was insane," Kennard said. "He answered every question very truthfully. It wasn't a rehearsed answer. He genuinely was so excited."
As for his personal life, Tomaszewski is gay and has a husband, Chris. He said he realizes how important it is for LGBTQ+ students to see representation and a role model.
He noted that in some districts outside of Allegheny County, educators can be fired for being gay, and he has been through some challenging experiences to get where he is today. Tomaszewski hopes to give representation to the LGBTQ+ community and show "young kids that you can be open about yourself and be successful."
"When I left Mt. Lebanon, I remember several students writing me amazing notes about how having an 'open and out' role model really positively impacted their lives," Tomaszewski said.
Although Tomaszewski's life is very career-based, he still finds time for various hobbies and interests.
Tomaszewski formerly was a singer for the Bach Choir of Pittsburgh, and he enjoys attending performances at the opera. His love for singing and the performing arts has also led him to be extremely involved the Pittsburgh Cultural Trust.
Running is another one of Tomaszewski's hobbies and he even ran the Pittsburgh Marathon last weekend.
Tomaszewski also has a fashion trademark — bow ties — which started back when he was a teacher at Mount Lebanon.
"I would wear bow ties every Wednesday and the freshmen in my homeroom class really liked the trend. I've been wearing them ever since," Tomaszewski said.
Tomaszewski enjoys watching movies as well.
"This is going to sound weird, but I really love action movies. The Avenger movies especially, I love," Tomaszewski said.
Tomaszewski said he enjoys spending time with his nephews. He and his husband try to go to his mother's house for dinner every Sunday night.
Tomaszewski already has a Baldwin connection: He and English teacher Dr. Dan Harrold were at Bethel Park High School at the same time. Tomaszewski graduated in 2005, and Harrold graduated in 2006.
The two were both involved in the school musical. During Tomaszewski's senior year, they were up for the same part, which Harrold got.
"Shaun was the superior singer back then. My strength was the acting," Harrold said.
Harrold remembers Tomaszewski being in the upper-level classes and that he ran with a really smart crowd.
"I'm not surprised to see he's doing so well. I didn't expect to see him as my boss quite soon. I thought it would happen eventually," Harrold said.
Tomaszewski said he has high hopes for the time he will spend at Baldwin in the years to come.
"I am really looking forward to getting to know the kids and the faculty. I think the next few years are going to be super exciting and together we're going to be able to reimagine what high school looks like," Tomaszewski said.
Staff Writers Austin Bechtold, Tori Di Cesare, and Avery Greenaway contributed to this report.
About the Contributors
Paige Crawley, Staff Writer
Paige Crawley is a senior and third-year staff writer. Athletic, organized, and extroverted are not words that could be used to describe her.
Lindsay Bonetti, News Editor
News Editor Lindsay Bonetti is a senior and this is her third year on the Purbalite. When she's not on the softball field, she can constantly be found...
Lena Barakat, Sports Editor
Lena Barakat is a sports editor and this is her second year on the Purbalite. She likes listening to The Smiths, Amy Winehouse, and Talking Heads. When...