New sound works well for Marina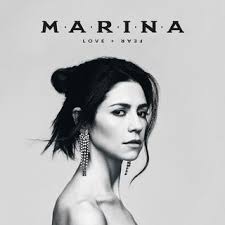 When most artists change their music style, it's either a huge hit or a miss. For singer Marina Diamandis, changing her sound has been an absolute hit.
Love + Fear is her first album under just the name Marina, rather than Marina and the Diamonds. The songs reflect this change, and take a step away from her past style without straying too far from the familiar vibe of her music.
Each song delivers a clear and deep cutting message, such as in "Handmade Heaven," where Marina sings about inner peace and acceptance. The ethereal style of singing can be easily compared to her 2015 record Froot, but is a far cry from the bubbly pop featured in Electra Heart.
While most of the tracks on Love + Fear successfully combine a new sound with her past vibe, some songs, like "Baby," miss the mark and sound out of place on the album. This could be because of the features in it, something unusual for Marina, who is typically a solo artist.
The outliers are easily made up for by tracks like "To Be Human," which laments the tragedy of history while also conveying a call to action from listeners.
Overall, Love + Fear highlights what fans have most appreciated about Marina's music while still bringing a new style to the table.
About the Contributor
Elizabeth Perston, Features Editor
Elizabeth Perston is a features editor and third-year writer on the Purbalite. When she's not browsing Pinterest, she can be found thrift shopping and...