Thrifting creates unique looks at an affordable price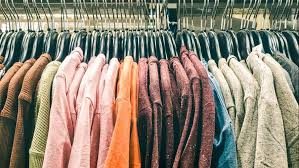 Buying retail can really break the bank. So how can teens save money while also looking cute?
The answer is simple: thrifting. Thrifting is an easy way to have style, but to save some money at the same time.
Thriting is easy. There are many well known thrift stores, such as Goodwill, where shoppers can find bargains. Then there are "high-end" thrift stores or consignment stores such as Plato's Closet or Style Exchange, which are more pricey, but often have better quality and more designer-brand clothing in their stores.
In addition to thrifting in person, there are several online thrift stores that are good options when buying used clothes. Thredup, one of the largest online thrift stores, offers shoppers a chance to buy and sell used clothes. Brands from Levi's to Gucci can be found there for large savings off of the retail price.
Those who are able to make some simple alterations to thrifted clothes can create a unique look without spending too much money. This process, called upcycling, can be as simple as adding rips to a pair of jeans or as elaborate as embroidering flowers onto a T-shirt.
While thrifting is smart for financial reasons, it is also good for ethical reasons. Big corporations often use cheap, outsourced labor in countries where sweatshops are common.  Workers in these countries often face poor conditions and low wages, so thrifting makes it easy to avoid directly supporting this system.
Finally, thrifting is also a good way to help the environment. Producing clothing creates a lot of carbon emissions, so buying used clothing cuts the amount of pollution produced. It also reduces some landfill waste, as many people throw out old clothing.
Thrifting is a good way to save money, and the planet, while still being able to have cute and comfy clothes.