Teachers have innovative "pop-up" class informing students about Notre Dame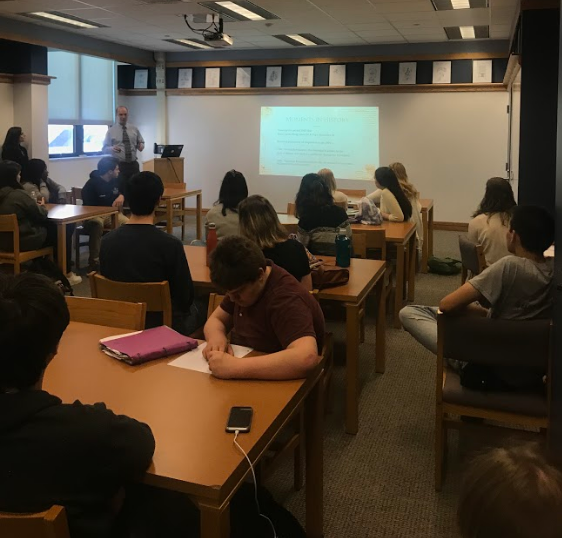 A day after a fire damaged Notre Dame Cathedral in Paris, three Baldwin teachers spontaneously put together an innovative "pop-up" class to teach students about the historical, artistic and cultural importance of the cathedral.
In the school library's "Think Tank" classroom, history teacher Adam Foote, art teacher Cheryl Foote, and French teacher Kathryn Jarocki explained the significance of the cathedral to students from a seventh-period French class and other interested students who signed up for the one-time only class.
Adam Foote relayed the long history of the cathedral, including how many years Notre Dame has stood since it was created, and important events that took place within and around the building.
Jarocki added to the lesson by discussing how the cathedral came to be a staple of French culture, mostly because many citizens consider it a symbol of resilience and the Catholic faith.
Cheryl Foote explored the architecture of Notre Dame and how its structure had a great influence on gothic buildings. She also explained how its structure contributed to the difficulty that firefighters had in putting out the flames.   
"As we learn more about the events yesterday, it is interesting to see how important Notre Dame is not only as a religious symbol, but as a symbol of art and culture," she said.
Students at the "pop up" class said they were excited to learn more about the influence of Notre Dame in past and current culture.
Ilona This, an exchange student from France, had strong feelings about the monument, and the importance of this learning opportunity.
She thought that, even more than the Eiffel Tower, "Notre Dame really symbolizes all of France and its history. Notre Dame is not just a church. It is a symbol of France, and a symbol of the French people."
She said she was glad that the Baldwin French class students had the opportunity to see what the monument means for France.
Senior Mikayla Davic took interest in the class because of her background in French language classes at Baldwin.
"What was so great about the presentation was that it showed how Notre Dame is significant, not only in architecture, but in regards to French society, culture, and politics — which was shown by the fact that a French teacher, a social studies teacher, and an art teacher each were able to speak to its importance in a different way," Davic said.