New album "LSD" changes collaboration in pop music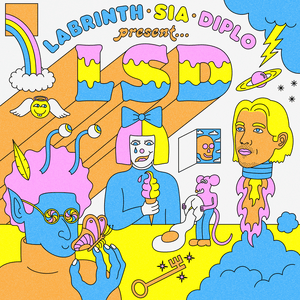 Collaborative albums in the pop industry aren't quite as common as they are in the rap or rock genres, though the solid debut album from the group LSD may bring a change to that trend.
The group, comprised of singers Sia and Labrinth plus the popular DJ Diplo, includes some of the best talents in the music industry. But while there are some great songs that come out of the project, there is also a fair amount of filler content.
On the one hand, the songs "Thunderclouds," "Genius," and "Audio" combine the styles of each artist to create a unique sound, one that has the potential to become a radio staple with time. Their beats and harmonies each highlight the group's talents, and their creativity is clearly evident with some of the lyrics.
"Thunderclouds" has already been featured in a commercial for Samsung smartphones, and it reached the Top 50 on charts in 23 different countries due to the group's wide outreach.
However, some of the other songs simply don't live up to their billing on a major album release. The 10-song project only features seven songs that are worth listening to, as the others are seemingly included to boost the album's length.
This is one of the problems with a supergroup, as they often can't find the time to both work with the group and continue their own solo careers.
Overall, the album works as a starter for a group that could be quite popular in the years to come if they continue making music together.