DC adopts comic storyline with "Shazam"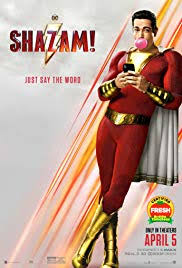 With one word, teenage Billy Batson transforms into the powerful hero Shazam, and with that same word the future of DC superhero movies has been changed.
Out of the seven movies now within the DC extended universe, Shazam! is the only film marketed as a straightforward action comedy. Aquaman, which came out in 2018, was marketed as less of a comedy, but more of an action film to make up for the lackluster Justice League.
Shazam! was released as a comedy a la Marvel's Spiderman: Homecoming. Both films aim to show the teenage alter ego as the true face of the hero, not just the mask.
Zachary Levi stars as the adult Shazam after young Billy Batson gains powers from a wizard. Mark Strong portrays Dr. Thaddeus Sivana, a man who vows to plunge the world into darkness and evil.
What Shazam! does so well is that the film shows the naive teenager thrust into a state of ultimate power and large responsibility to his city and his adoptive family. Even the action scenes show this, as Shazam must protect his family and use his power for the greater good.
Shazam! is a good display of youth and responsibility and is worth the watch.
About the Contributors
Paul Briones, Staff Writer
Paul is a junior first-year staff writer. He can be found either playing the trombone by himself whilst reading the Communist Manifesto or trying to drink...