Sweet Sixteen features great matchups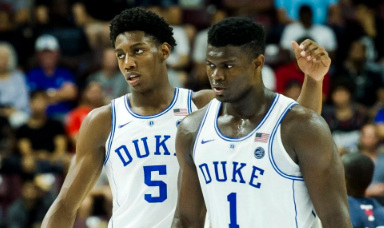 This year's version of March Madness hasn't had too much madness yet.
There were some upsets in the round of 64, including three of the number five seeds getting knocked out, along with 13 seed U.C. Irvine taking down four seed Kansas State. However, three out of those four upsets were short-lived.
The only remaining team that was lower than a five seed is Oregon, which was a 12 seed. They shouldn't even be considered a Cinderella story, though, since they come out of the Pac-12 and currently hold a 25-12 record after winning their season-ending tournament.
With that said, this tournament has been all about the top tier teams. All of the one, two, and three seeds have advanced to the Sweet Sixteen.
Throughout the first and second rounds talented NBA prospects and star players have put on a show for fans, including the most exhilarating player in the nation, Zion Williamson.
Williamson over his first two games has scored a total of 57 points. He has been practically unstoppable driving to the rim and has played a tremendous all-around game.
His biggest competition was against 7'6" Tacko Fall of UCF, but Zion still managed to put up 32 points.
Along with Williamson, R.J. Barrett and Cam Reddish have made the Blue Devils an unstoppable force heading into their Sweet Sixteen matchup with ACC opponent Virginia Tech.
Another ACC team that is red hot is the Tar Heels from North Carolina. They have a complete lineup and depth up and down their roster. They also have several pure scorers in the likes of Cameron Johnson, Nassir Little, and Coby White.
The Tar Heels will take on a five seed in the Auburn Tigers. This will be an exciting matchup as the Tigers like to shoot a lot from outside the arc. If Auburn can execute from three-point range, then they will have a chance to take out a number one seed.
The third number one seed from the ACC is the Virginia Cavaliers. They have had to fight the demons from past NCAA tournaments, including last year's first-round exit at the hands of number 16 seed UMBC, the first-ever upset of its kind. Also, as a number one seed, they were bumped from the ACC tournament this year by Florida St. However, they managed to win their first two tournament games over underwhelming opponents.
The Cavaliers take on the 12th seeded Oregon Ducks. The Cavaliers should win this game as they have a complete lineup with solid depth, but the Ducks are riding a hot streak and have major upset on their mind.
The last number one seed to be discussed are the Gonzaga Bulldogs. They fared pretty well over their first two games with easy wins and outstanding play from forward Brandon Clarke, who totaled 36 points in their second-round win over Baylor.
The Bulldogs would be an easy pick in this game except they take on 4th seeded Florida St., which took down the Bulldogs in the Sweet Sixteen last year. But this year the Seminoles might be even better off. They have great size and are one of the top-scoring teams in the nation. This game will go down to the wire and might even take a buzzer-beater.
As for all of the two seeds, they will each take on a three seed. All of these matchups will be exciting to watch.
Third-ranked LSU features a young team, but is led by underrated guard Tremont Waters. On the other hand, the Michigan State Spartans will have their hands full as Cassius Winston will try to lead them to victory.
For the experienced Michigan Wolverines, they take on a high-flying offense in Texas Tech. These two teams will play a tightly contested game and it will come down to which defense plays better.
The matchup between the Tennessee Volunteers and the Purdue Boilermakers will be another close Sweet Sixteen matchup. Purdue has been able to walk over their first two opponents, where as the Vols struggled against 15th-ranked Colgate and 10th-ranked Iowa.
The last two vs. three matchup features the Kentucky Wildcats against the Houston Cougars.
Kentucky has been able to play well even without PJ Washington. With his return coming in the near future, he would be a huge help to this team. The Cougars, however, have played extremely well through their first two games, led by Corey Davis Jr. If Davis Jr. can have another performance like he has had in his first two games, then the Cougars could find themselves in the Elite Eight.
As this year's Sweet Sixteen gets ready to tip off, there are no clear-cut winners. All of these games will be tight as 14 of the top 16 teams in the tournament will be featured. It will come down to the wire to see which eight teams will move on.
About the Contributor
Nathan Breisinger, Sports Editor
Sports Editor Nathan is a senior and this is his third year on the Purbalite. He plays hockey and baseball and he can be found watching, listening, or...