NBA legends Nowitzki and Wade prepare to retire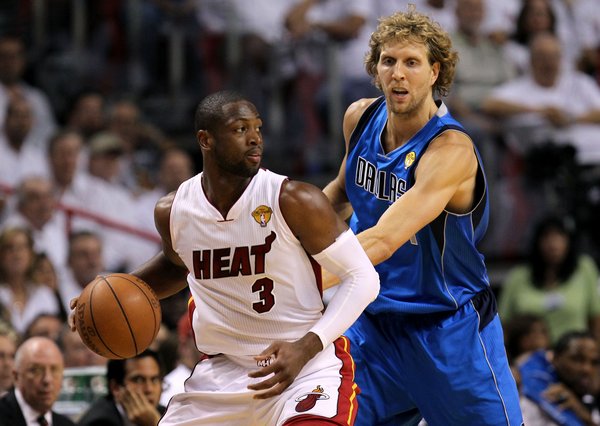 NBA legends Dwayne Wade and Dirk Nowitzki have combined for 54,380 points in their NBA careers. Unfortunately, NBA fans will be deprived of these two legends once this season ends.
These legends will be remembered not only for their abilities on the court, but also for their class in handling interviews and fans. They have never been in any type of scandal.
Don't get it twisted: Wade and Nowitzki are two of the best players all time.
Nowitzki is the best European player of all time and was the originator of the stretch fives. Nowitzki is also one the few NBA stars to win a championship with no other stars on his team. Even more impressive, he beat Wade and LeBron James in those finals.
Nowitzki a 14-time all-star, a one-time MVP and a one-time NBA Finals MVP.
Wade is one of the best players at the shooting guard position. In fact, there are only two other shooting guards who were better than him: Kobe Bryant and Michael Jordan. That is very elite company.
Wade has earned three championships in his long career. He, like Nowitzki, greatly influenced his position in the NBA. Wade was a shooting guard who could actually be a playmaker instead of just a big-time scorer.
The United States has Wade to thank for multiple gold medals in the Olympics. Wade is a strong proponent of NBA stars representing their country in the Olympics. Without the leadership and guidance of Wade, Team USA might not have the big names on the roster that it has today.
NBA teams have been honoring these two legends all season with jersey swaps and tribute videos. The NBA also selected them as special all-stars and even let Nowitzki compete in the three-point contest.
The NBA will never be the same without two of the classiest and most entertaining players in the game.
About the Contributor
Adam Goldsboro, Multimedia Editor
Adam Goldsboro is a senior Multimedia Editor in his third year on staff, and he can found on the soccer field or the basketball court.