Pitt Panthers' Season Ends on Low Note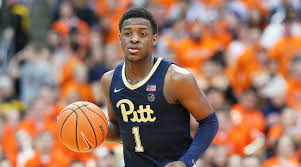 The roller-coaster ride finally came to an end for the Pitt Panthers' basketball team with a 73-59 loss to the Syracuse Orange on Wednesday, bringing an end to Jeff Capel's first season as head coach of the team.
The loss came as the team had just started to gain momentum going into the ACC tournament after wins over Boston College and Notre Dame, and it initially looked as if that momentum had carried into the game against the Orange.
The Panthers took an early double-digit lead, as senior Jared Wilson-Frame hit six three-point field goals in the first half. Yet they blew the lead in the second half, getting outscored 42-23 after halftime.
The defeat works as a fitting metaphor for the season as a whole, as the team ended non-conference play with a solid 10-3 record, losing two of those games by only a point. They even had a hot start to the conference schedule, defeating the No. 12-ranked Florida State Seminoles and the Louisville Cardinals, each of which are now heading to the NCAA tournament.
It all went downhill from there, though, as the team would lose each of their next 13 games. They finished the year with a 14-19 record, and will not be taking part in a postseason tournament.
It also marks the end of the collegiate careers of Wilson-Frame and Sidy N'Dir, each of whom had been valuable contributors to the team this season.
While this was N'Dir's first year with the team after transferring from New Mexico State, Wilson-Frame has been with the Panthers for two seasons, and led the team last year in points per game.
Despite the Panthers' finish to the season and the loss of two key players, their expectations are still trending up for the future. The team returns four of its five starters, and it will be getting solid new recruits in the upcoming season.
Xavier Johnson and Trey McGowens, their freshman guard tandem who each averaged over 10 points per game, will be joined by recruits Gerald Drumgoole, Karim Coulibaly, and Justin Champagnie. With Wilson-Frame leaving, the team desperately needed players who could shoot from outside the arc, and Drumgoole and Champagnie are four-star recruits who can fill that void.
For a team that went winless against ACC opponents last year, the Panthers' improvement is a promising sign, and given the quality of their young players, they look to be competitive next year and beyond.