Lakers fail to meet expectations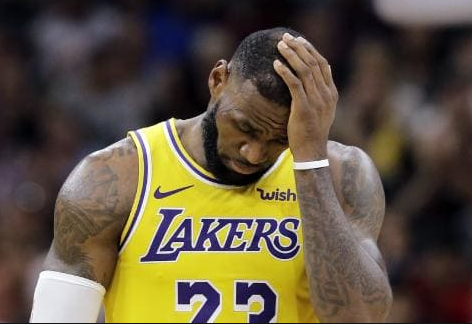 Hang on for a minute...we're trying to find some more stories you might like.
The Los Angeles Lakers finished in 11th place in the 2017-2018 season. Then on July 1, 2018, Lebron James, who is arguably the greatest player in the league right now, agreed to a four-year deal with the Lakers.
Yet the Lakers currently sit in 11th place again, so how did the addition of one of the greatest players of all time leave them in the same place they were last year?
It is first necessary to note that this season has been nothing close to ideal, as the team has been dealing with injuries all year long.
James missed 18 games due to a groin injury. Both Kyle Kuzma and Lonzo Ball are currently dealing with ankle injuries, and Ball has been ruled out for the rest of the season. Brandon Ingram was recently diagnosed with a blood clot in his right arm, and he is also out for the season.
Before James's groin injury, the Lakers were fourth in the Western conference. But James's injury, coupled with Rajon Rondo's broken finger, put the young cast of the Lakers in a tough spot from which they have been unable to escape.
The team is now bound to miss the playoffs for the sixth consecutive year. It's clear that the injuries plagued the team's promising start, and they have been unable to recover from the losses.
Yet there is a much bigger talking point than that in Los Angeles: What should the Lakers do next year if they want to have a chance at making playoffs?
ESPN Analyst Jeff Van Gundy suggested trading James over the weekend following a Lakers loss, and Internet commentators have shown mixed emotions about that idea.
The argument for trading James revolves around his lack of effort on defense, his lack of offensive aggression, his below average free-throw shooting percentage, and his overall lack of devotion to his team — including his being open to having the whole team traded for Anthony Davis.
The arguments against trading him are simple: There would be nowhere for him to go that would give the Lakers an equal return in value, and trading him would result in him retiring and moving on from basketball.
Getting rid of James after one season filled with injuries seems irrational and reckless. The team's initial push in the West was impressive, and if everyone gets healthy for next season, a similar push could plausibly take place.
The Lakers have a much younger and more talented roster than last year's Cavaliers had, and James took that team to the NBA Finals.
This means that James could very well take the Lakers to the playoffs and make a strong drive, but the team has to get healthy and make sure that the chemistry between the players remains strong, especially because of the promising cast of young players.
This year's season shows that James is capable of losing, and if he really wants to take his team to the playoffs, he must be more devoted to the team.
It's not solely his responsibility to carry the team, though. His teammates also need to show more effort and work well together if they want to match up against the best teams in the NBA.
About the Writer
Mason Hurley, Staff Writer
Mason Hurley is a sophomore and first-year staff writer. He always has a clean pair of Jordans on, and may be seen in bright yellow Air Force Ones.