2 Chainz shows maturity with latest album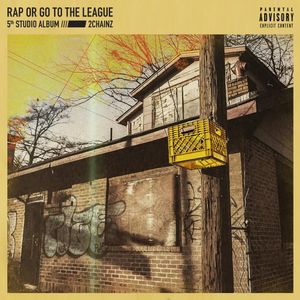 Hang on for a minute...we're trying to find some more stories you might like.
The new album from 2 Chainz is a star-studded project that showcases the very best of the rapper's ability and style.
With 2 Chainz in his 40s, his earlier style of club-focused bangers needed to change, and with Rap or Go to the League, 2 Chainz covers more complex and serious themes well, while still maintaining some of the energized and hype-filled style that defines him.
The bouncy production and clever punchlines that fans have come to expect from 2 Chainz still remain in full force, but the rapper has begun to use those tools to discuss more sincere topics.
The title of the album references the common idea that young black men only have two very unlikely ways to escape poverty: going to the NBA or becoming a famous rapper. 2 Chainz himself essentially exemplified this belief, as he was a basketball prospect in high school, going to Alabama State University on a basketball scholarship before finding success making music.
Luckily, the ideas present in the title do not take a backseat to the rapper's brag-filled style of rapping. They are actually worked in and incorporated perfectly. Although some songs, such as "Girl's Best Friend" and "2 Dollar Bill," only contain the showboating that is synonymous with his style, other tracks expertly blend gloating and reflection to create a fresh dynamic.
Alongside these complex topics is a wide range of attention-grabbing and impressive features. Ariana Grande, Lil Wayne, Kendrick Lamar, and Travis Scott are just a few of the artists who add to the album. Each contribution adds excitement that elevates the album's energy to new heights.
Based on star power alone, this album would be worth listening to, but the maturity and sincerity that 2 Chainz puts forward makes this album one of his best.
About the Writer
Eli Achtzehn, Staff Writer
Eli Achtzehn is a junior and second-year staff writer. He enjoys playing the drums and can be found on the lacrosse field or in your heart.