Dance team returns to high school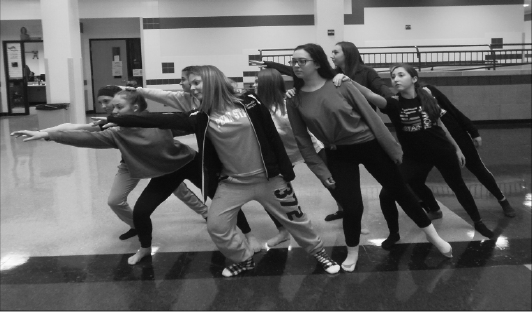 It has been several years since Baldwin last had a dance team. Junior Savanna Starr wanted to change that.
"I love to dance and I really wanted to get more involved in school before senior year. I also knew other girls who really wanted a dance team," Starr said.
Starr talked to science teacher Sara Nairn, who as a student had been a dancer, a member of the color guard, and a participant in school musicals.
"I wanted to give kids the opportunity to dance and get them more involved in school while still having fun," Nairn said.
Nairn created two dance teams — competitive and combined — as a way to showcase some of the dancers with more experience while also including everyone who is interested.
The competitive group, which is known as the contemporary team, is choreographed by Monica Symons, who dances at Ultimate Dance Complex and is also a senior at Peters Township. Auditions were required to join the competitive team.
Junior Samantha Moore is part of the competitive team.
"The dances can be kind of difficult sometimes, but most of us have been dancing for a while and we always have fun," Moore said.
The combined group, also known as the hip hop team, is choreographed by Nairn and two of the dancers, senior Shaleese Jackson and junior Tamia Little.
"The thing I enjoy most about the dance team is definitely practice. Performing is fun, but practice is where everybody really bonds and can be themselves, and all the personalities on the team makes it a lot of fun," Little said.
So far the dance team has performed at a fall sports pep rally and at Gifts of Dance, a benefit performance event that featured various groups and raised money for the Free Care Fund of UPMC Children's Hospital of Pittsburgh Foundation.
The team fundraises for its costumes and to pay the choreographer as well as to pay travel costs for the competitive team.
The dance team plan is performing at some basketball games, with the two teams alternating their performances.
Jackson said the entire experience has been rewarding.
"The most fun about the dance team is definitely the people. Once we got past that awkward stage of not knowing each other, we quickly became family, and being surrounded by positive energy from the people you are around makes anything amazing," Jackson said.
About the Contributor
Grace Esposito, News Editor
Grace Esposito is a senior news editor in her third year on staff. She can usually be found either procrastinating on her homework or taking long walks...