Baldwin expands on Partners program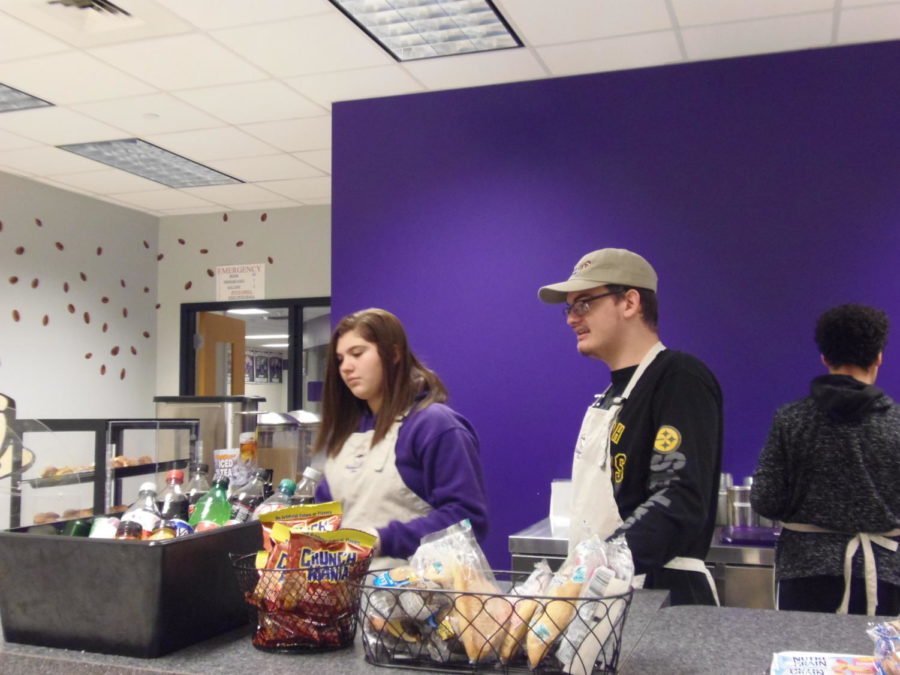 Intro to Business students knew they were going to get hands-on experience as they helped run the Baldwin Bean coffee shop this year, but they also have gotten much more out of it, thanks to their work with the program's Partners students.
"The Bean really helps students learn to deal with business while also becoming a better person at the same time," freshman business student Paige Rupp said.
Freshman Frank Lincoln, another business student, agreed that the Bean is helping students both gain work experience and develop bonds with the students in the Partners program.
"I took business class because I thought it would be a good experience for a job I want to have one day," Lincoln said. "I like helping people when I work at the Bean and I have made a lot of friends there. If anyone is thinking about helping, I really recommend it."
Senior Jenna Stefanyszyn said working at the Bean helps everyone there grow.
"I think this is a really great opportunity for Partners students to receive work experience in a low-stress, controlled environment," she said. "I also think that it helps them receive more face-to-face time with their fellow classmates in our push to make Baldwin a more inclusive place. I really enjoy watching our Partners grow and succeed with life skills."
While the Bean has become a popular spot in the building for early morning coffee and snacks, not everyone knows that this is the latest Partners program addition to Baldwin High School.
Transition coordinator Eric Jankoski was a driving force in the development of the Bean.
¨We were looking for more ways to expand the Partners model into more job and vocational settings. When the idea of a coffee shop came up, it seemed like a perfect fit,¨ Jankoski said.
Michelle Kilburn's Intro to Business and Sports Marketing classes are tinvolved with the program. Beginning in October, the classes began to prep for the November opening.
¨All classes were trained to make the drinks and serve them, as well being trained in food services like sanitization of all the equipment,¨ Jankoski said.
The reactions among the student workers have been positive, with some students picking up extra shifts in the shop.
"I really like working in the Bean. My friends will go down to help even on days we're not scheduled,'' Rupp said.
While the Baldwin Bean has been doing well, its predecessors, Partners PE and Partners Music, having been doing their part for a long time.
Baldwin's Partners programs are well known throughout the region. Other schools in the area are just starting to implement Partners PE and Partners music programs.
The first Baldwin partner's program was the PE branch, which physical education teacher Tim Laughlin started after being inspired by his former co-workers. Students who sign up for the class are "partnered" with students with complex needs for the gym class.
Since then, the program has been running for over 15 years, and Laughlin has spoken at conferences and met with schools from around the country.
"We went from really not having anything like a Partners program to having something this big around the school," Laughlin said.
Music teacher Kris Tranter created a Partners Music program that is going strong in its fifth year.
Tranter borrowed some ideas from Laughlin while creating the course. The class mainly focuses on helping the relationships between all the students and allowing the students to experience music.
Laughlin said the Partners programs have been successful because they allow all students regardless of ability to interact and work on becoming better people.
"Learning how to interact and treat people with respect even if they are different from you is very important," Laughlin said.
About the Contributors
Devon Schroeder, Multimedia Editor
Multimedia editor Devon Schroeder is a senior and this is her second year on the Purbalite. She can be found running both on the track and away from her...
Adam Goldsboro, Multimedia Editor
Adam Goldsboro is a senior Multimedia Editor in his third year on staff, and he can found on the soccer field or the basketball court.


Elizabeth Solenday, Design Editor
Elizabeth is a senior and this is her third year on the Purbalite. She can be found twirling flags in the color guard or singing songs in the musical....