Chain reaction ties the knot
Hang on for a minute...we're trying to find some more stories you might like.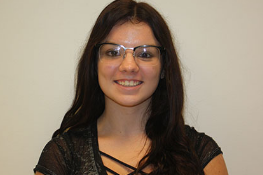 More stories from MacKenzie Sendro
Fans of romantic comedies and those who are obsessed with royal weddings know that it takes some work to go from being engaged to getting married.
A group of students working through the gifted program used that process for inspiration while competing in the Chain Reaction Contraption competition hosted by Carnegie Science Center in December. Teams from 32 area school districts all created chain-reaction devices that shared the theme "tying the knot."
The goal of the competition was to create a story, so the students decided to create the evolution of a couple's relationship, using a domino effect.
"We started with the proposal and moved to the marriage," senior James Luttringer said.
The team consisted of Luttringer, sophomore Alex Shields, and seniors Joey Shields, Liam Dorsch, Anna Kosslow, Cameron Greenaway, Alex Bradley, and Brendan Shaneman. They created 17 steps, with each representing various parts of the proposal, the engagement, and the wedding.
For example, the first step was triggered by a marble that opened an engagement ring box. The next step triggered an invitation being dropped into a mailbox. The final step included the cutting of a cake.
The Baldwin team fell short in its bid for the "Best Contraption" award due to technical difficulties. However, the team did finish second for the "Green" award, which is awarded to those who use mostly recycled items in their project.
"We only spent about $8 or $9 in total for the paint in the background," Joey Shields said. "The rest of it was completely recycled items that we put together."
In total, it took the students over 40 hours to design and construct the contraption.
Gifted teacher Jared Hoffman has been sponsoring a team of students for this competition for the last four years.
"The hardest part is always getting the steps to work all together," Hoffman said.
Although Hoffman has no say in what the students create, he is in charge of supervising the construction of the project and ensuring the students are able to use every tool necessary to create the best possible outcome.
The students are now moving on to focusing on the STEM Challenge, hosted by Shaler, where they will construct a paper airplane launcher for this year's theme of paper airplanes.