How to Train Your Dragon: The Hidden World brings a satisfying and emotional end to the How to Train Your Dragon trilogy.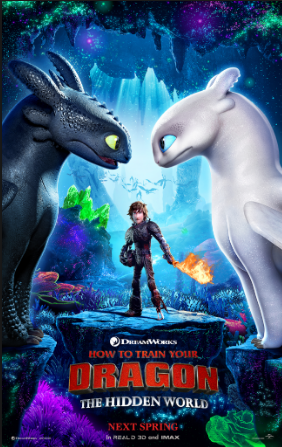 The movie takes place roughly a year after the second movie in the series. Hiccup (Jay Baruchel) has taken his father's place as chief and makes it his mission to rescue all dragons from dragon hunters. He is joined by his dragon companion, Toothless, along with his friends and fellow vikings of Berk.  In the process, he captures the attention of the most ruthless dragon hunter of all, Grimmel, and Hiccup and the other vikings must find the hidden world that his father told him about years ago if they have any hope of keeping their dragons safe.
The plot of the movie is somewhat predictable and similar to its predecessors, but is certainly far from being boring. The action sequences are thoroughly exciting from beginning to end and scenes that are not action-packed provide comic relief and heartfelt moments.
The characters also have great chemistry with each other. The most notable relationship is that between Toothless and Hiccup, who transcend the bond between owner and pet, but must also over the course of the movie learn to become independent of one another. Their relationships with their significant others are also highlights of the movie. Hiccup and his girlfriend, Astrid (America Ferrera), consider getting married while Toothless pursues a relationship with another dragon the vikings decide to call a Light Fury. The mirrored struggles between the two creates interesting conflict and character development. (more underneath)
If the intense action and characters were not enough, the animation alone could carry the movie. Vibrant colors and gorgeous scenery are applied throughout the movie and make it an incredible experience to watch on the big screen.
How to Train Your Dragon: The Hidden World is one of the rare occasions where a series truly builds and builds to an incredible climax, one that audiences will not want to miss.