UFC 235 to feature two big title fights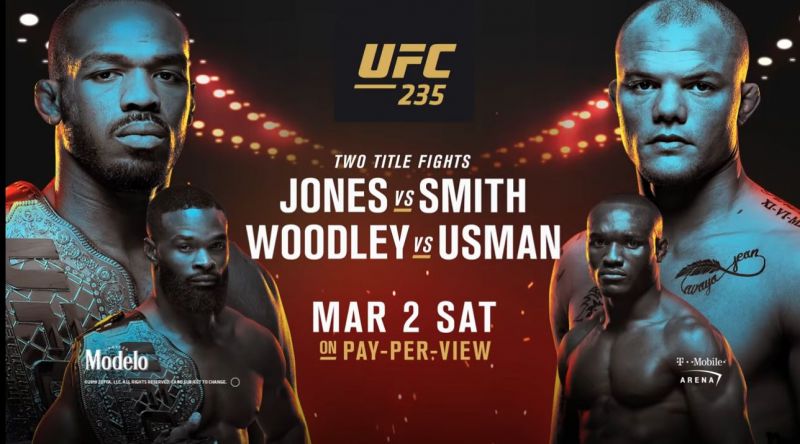 With the UFC officially back in Las Vegas, the organization is marking the return with two great title defenses for UFC 235: Anthony Smith will challenge light heavyweight champion Jon Jones, and Kamaru Usman will challenge welterweight champion Tyron Woodley.
Everything about this card is exciting as it is absolutely stacked with interesting fights, but these two title fights should be ones that fans will remember as great.
The first bout of the two main event fights will feature Woodley defending his welterweight title for the fourth time, fighting against Usman in the first title fight of his UFC career.
Usman has been in the UFC since 2015 and has slowly but surely moved his way up to the No. 1 contender spot, with a balanced attack of striking and wrestling. The 31-year-old fighter out of Nigeria has just one loss in 15 fights for his professional career and has never actually lost in the UFC.
While that is impressive, Woodley will be his first real challenge in the division. Nonetheless he does create a problem for Woodley, as he can be an explosive yet patient fighter, with most of his fights going the distance on an average of 14 minutes and 54 seconds.
Woodley of course is the reigning champ for a reason. With a great combination of boxing, wrestling, and Brazilian Jiu- Jitsu, Woodley has been on top of the welterweight division for a number of years and to no surprise. There have been few legitimate contenders for the belt and maybe having sat in the broadcast booth will catch him off guard in this title bout. Either way it'll be interesting as both fighters are so similar.
As for the light heavyweight title fight, what can be said about Jones that hasn't been said already. Many consider him to be the most gifted fighter to ever step foot into the octagon, and while he has not been a polished decision maker, he is certainly pound for pound one of the greatest ever.
Jones is like Tom Brady: Everyone wants to see him lose, but until fans see him even stumble, it'd be foolish to bet against him.
Yet Smith is no joke either.
Smith had originally fizzled out in the UFC after one fight and has spent a majority of his career in Bellator MMA, but since his return in 2016 he has been very productive. In 2018 he would make the move to light heavyweight and currently sits at the No. 3 spot in the division rankings. With a heavy right hand and a black belt in Jiu- Jitsu, "Lionheart" does present some challenges to Jones that should make for an interesting title fight.
Fight fans generally enjoy the wars. McGregor vs. Aldo was hyped up but much too short. Rousey vs. Holm was supposed to be spectacular, and instead it ended with Rousey being dominated in the stand-up game. But these fights are going to be wars, as the skills, similarities, and matchups are just too good to be true.
About the Contributor
Jaiman White, Multimedia Editor
Multimedia Editor Jaiman White is a senior and this is his third year on The Purbalite staff. Jaiman can be seen in his natural habitat, in the back corner...