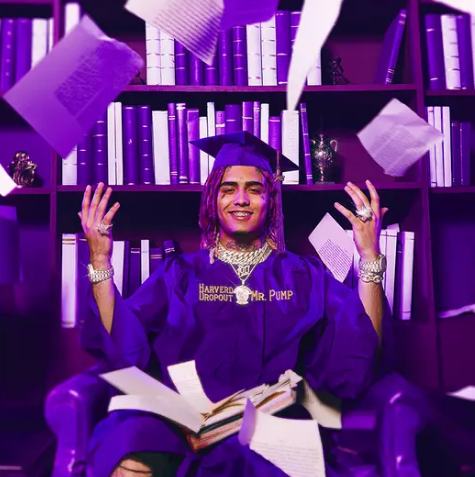 Lil Pump hits all-time low with new album
February 26, 2019
Lil Pump's second studio album, Harverd Dropout, incorporates his new style, most notably seen on the track "I Love It," which featured Kanye West.
Although that song was a hit, placing No. 6 on the Billboard  Hot 100 chart, Lil Pump's new album does not deserve the same recognition. Although the same sort of bouncy beats and flows are used on this album, the songs lack the energy that most of Pump's old songs had.
Although Lil Pump never puts much effort into his songs, this album shows that he is at an all-time low for creativity, with choruses so long and repetitive that listeners will find it hard not to skip past them.
The only songs truly worth listening to are those that include a verse by another artist, such as "Fash Fasho" with Offset, "Too Much Ice" with Quavo, and most notably "Be Like Me" with Lil Wayne.
On every song that has a feature, Lil Pump shows just how boring and unoriginal his verses are, as the featured rapper always flows much better than Pump and has much better lyrics.
The only standout songs on the album that don't have a feature are "Drop Out" and "Who Dat."
Both tracks feature a bouncy beat that is expected to be on this album, but incorporate the energy and flow that Lil Pump used to exemplify on his first and far superior self-titled album.
Almost every other song sounds the same, and "Off White" and "Vroom Vroom" show this. Both songs have very similar flows that are coupled by an admittedly unique voice inflection, and they both feature a repetitive chorus simply saying the title of the song over and over again.
Nobody expected a lyrical masterpiece from Lil Pump, but this album failed to deliver on the hype style that Lil Pump usually brings to the table — not to mention that six of the 16 tracks on the album were already released as singles before the album came out.
Overall Lil Pump's new album is disappointing, and the fact that it was pushed backed months from the original release date doesn't help. Lil Pump tries to incorporate his new style into this new album, but there is such little effort put into the songs that it ends up sounding like Lil Pump is trying to parody himself.
Lil Pump always portrays himself as someone who doesn't care about anything, and this album makes it clear that he feels that way towards making music as well.