Meyer swims though her last season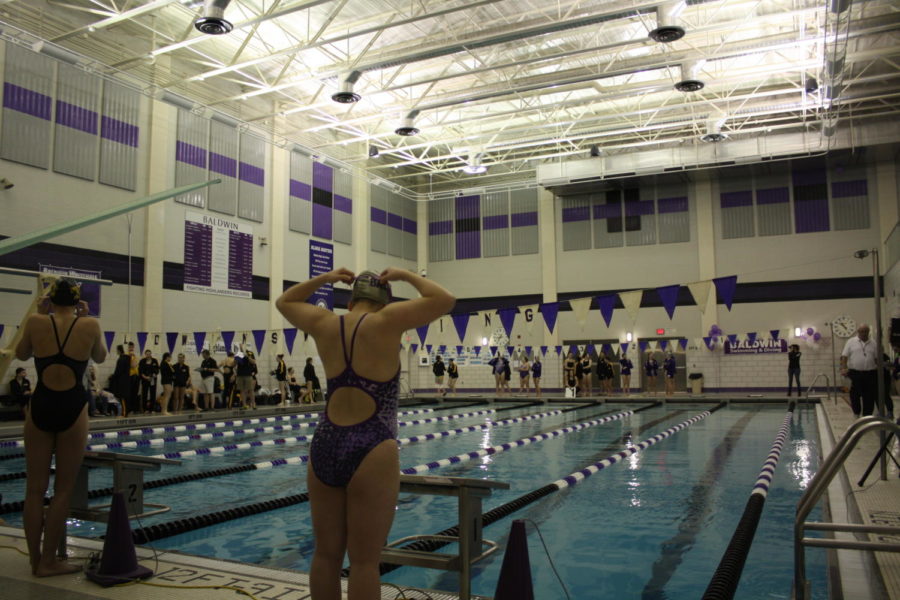 After swimming as a youth, senior Katelyn Meyer quit in her middle school years. But she came back in her freshman year and has not looked back since.
Now in her fourth year of high school swimming, Katelyn has gone from being a returning swimmer to a team leader.
"She teaches me how to step up and fill her shoes," sophomore Nicole Kosco said.
The senior swimmer has had to step up after the loss of several seniors from last year's team.
"Last year we had such strong personalities as leaders on our team. So I think I need to step up and lead my team through everything," Meyer said.
She has comfortably taken up her new role as a leader, working on both her own swimming and helping her teammates
"I try to take some of the freshmen under my wing. … I know first big meets can be intimidating," Meyer said. "I make sure they know what is going to happen. Being a freshman can be overwhelming."
Kosco praised Meyer's leadership.
"She helps get all the new swimmers settled," Kosko said.
Freshman Keegan Rohland has received help from her senior teammate both in and out of swimming.
"She welcomed me to the team and taught me a lot about high school," Rohland said. "Katelyn acts like an older sister for the whole team."
In addition to getting freshmen acclimated, Meyer works with Head Coach Kim Klinger often to plan for upcoming meets and practices.
"They talk and text a lot about upcoming events," Kosco said.
Meyer said she is happy to help.
"My coach and I try to talk frequently and get information out to swimmers," Meyer said.
She also plays a big part in recruiting new swimmers
"We use our Twitter a lot, and tell all our girls to talk to their friends to see if they are interested," the veteran said. "Our coach teaches me how to work through things and work with others. She is a great role model for me."
Meyer also trains on her own to get ready for the season. Along with the three-hour practices six days a week during the season, the senior swimmer participates in club swimming during the offseason to stay in shape.
Meyer's decision to return to the sport of swimming has been one that she does not think twice about.
"It's always a good feeling setting new PR's, working in new people, and helping out my team," Meyer said.
About the Writers
Connor Reiche, Staff Writer
Connor Reiche is a first year senior staff writer for the Purbalite. He enjoys spending time with his friends, listening to music, and playing video games.
Matt Storms, Staff Writer
Matt Storms is a senior and a first-year staff writer. He enjoys watching sports, movies, and listening to music.