Familiar face sets standard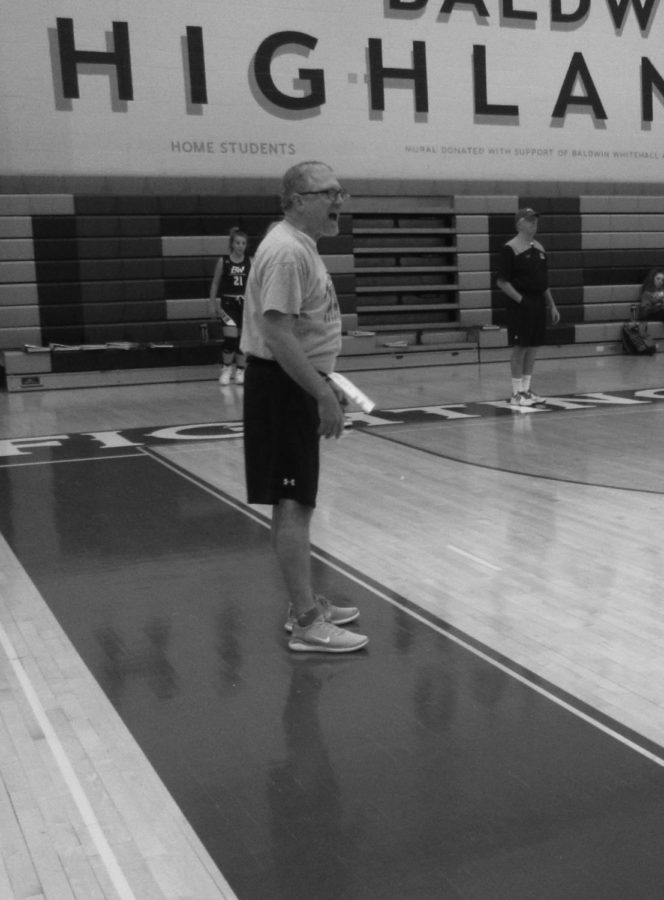 The girls basketball team has a new look, yet it's a familiar one as well.
Kyle DeGregorio, a counselor at Baldwin and a former coach for the Highlanders' boys basketball team, has returned to take over the girls program. Most recently DeGregorio has had success in coaching the Belle Vernon boys team.
DeGregorio has been away from Baldwin basketball since 2011. He said he is looking to establish a winning culture with the girls program.
"We really need to create a championship culture and what it takes to be champions,"  DeGregorio said. "A championship culture is mostly just a mindset."
The young team is coming off a 3-17 season last year, but most of this year's returning players had key roles last year, so they have some experience despite the team's overall youth.
Sophomore Lexi Bernotas stressed the importance of the team gaining experience.
"We expect more growth and more wins while also building the winning culture," Bernotas said.
Sophomore Anna Lucarelli said she believes that creating a turnaround requires confidence.
"Believing is the key for us. We carry some of last year's doubt, but it's going away." Lucarelli said.
DeGregorio came into the summer workouts with a different mentality, expecting a turnaround.
"Getting a new coach really affected our energy. It was a crazy start of the summer. He came in saying that we are winning this year," Lucarelli said.
Returning to coaching at Baldwin was not that hard of a decision for DeGregorio, especially since it meant less travel time for him.
"I really enjoyed my time at Belle Vernon. We had a lot of success and great kids, but the drive was 40 minutes. It's a lot different than (the gym) being 27 steps from my office," DeGregorio said.
The switch to girls basketball from boys is not that big of a chage for DeGregorio, who does not see much of a difference between the two.
"There is no good or bad difference between the two. The girls care every bit as much as the boys. It's just as important to them and they work really hard," DeGregorio said.
The Highlanders play in a tough section that features highly ranked Peters Township and Bethel Park.
"We have no excuses. Being young is not an excuse. The sooner we can get better, the better our experience will be," DeGregorio said.
About the Contributors
Flynn Travers, Staff Writer
Flynn Travers is a senior and a third-year staff writer for the Purbalite. He plays sports and watches anything sports-related. He also enjoys watching...
Nathan Breisinger, Sports Editor
Sports Editor Nathan is a senior and this is his third year on the Purbalite. He plays hockey and baseball and he can be found watching, listening, or...