Crosby and Lemieux made major difference in Penguins hockey as Pittsburgh sports icons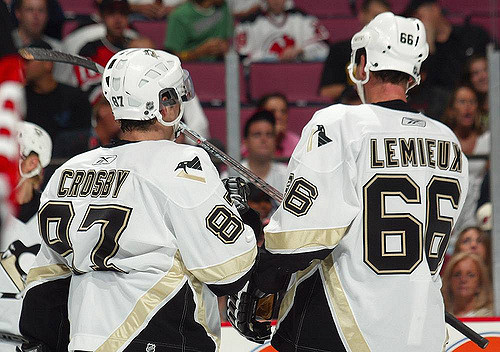 Pittsburgh has had its fair share of sports icons, with athletes like Roberto Clemente and Joe Greene making names for themselves in the Steel City. However, two legendary Pittsburgh Penguins were brought into the conversation once again on Saturday as the Penguins played the Tampa Bay Lightning, and Sidney Crosby officially surpassed former player and current owner Mario Lemieux for most games played by as a Penguin with 916.
These two iconic Pittsburgh athletes have so much in common. As soon as Crosby arrived in Pittsburgh he was immediately linked to Lemieux. They were both No. 1 overall picks by way of Canada, coming to a rather lowly Penguins franchise. They both have racked up a full resume of individual and team awards. And both have battled through adversity and injury to get to where they are now.
Lemieux's and Crosby's histories of injuries have been well documented. The Penguins were on a dominant run in the early '90s, with the franchise winning back-to-back Stanley Cups in the 1990-91 and 1991-92 seasons. As many know, the next season Lemieux would be diagnosed with Hodgkin's lymphoma and would have to undergo treatment for cancer.
Crosby, of course, has had his own history of being sidelined by injuries, with several serious concussions coming shortly after his first championship with the Pens. Had he not gone through that long stretch of absence it is very much possible that Sid would have achieved this feat almost two years ago.
These two players also mark pivotal moments in Penguins history. When Lemieux was drafted in 1984 and Crosby was drafted 2005, the Penguins were in absolute ruin. However, both became stars and quickly turned things around and silenced rumors of the team getting sold to Las Vegas or Kansas City.
What most fans don't realize, however, is that the Pens could be facing another tough stretch in the near future. The team has largely been unable to find new talent to surround the older stars like Crosby and Geno Malkin, and the Pens look to be heading for another rough patch of years. But for now fans can relish the success the team still has and the way Crosby has been elevated into legendary status in Pittsburgh.
About the Writer
Jaiman White, Multimedia Editor
Multimedia Editor Jaiman White is a senior and this is his third year on The Purbalite staff. Jaiman can be seen in his natural habitat, in the back corner...