US Women's National Soccer Team looks forward to World Cup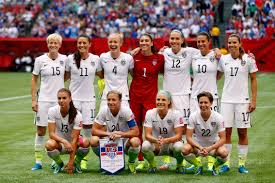 Hang on for a minute...we're trying to find some more stories you might like.
The United States Women's National Team is preparing for the 2019 World Cup hosted in France this summer. Every four years the U.S. women's soccer team competes on the world stage in a quest for the championship.
In 2015, the national team had an outstanding tournament with record-breaking players like Carli Lloyd and Abby Wambach. As of right now, the national team is recruiting new young players to place on the starting lineup.
Jill Ellis is the head coach of the national team and has been confident filling her roster with young new players. In 2016, Ellis decided to recruit Mallory Pugh at the young age of 17. She was the youngest player to join the senior national team since Heather O'Reilly in 2002.
Currently, many of the well known starters are not really starting anymore, with their positions getting moved around. Ellis clearly is not afraid to give younger players a chance on the pitch to prove themselves. She is determined to win, but more importantly to filter the field quite frequently to keep both the older and newer players learning.
On Jan. 19, the national team faced France in an international friendly. This was the team's first challenging international game of the year, and fans were shocked when the U.S. lost 3-1.
How could a team that won the World Cup in 2015 lose a friendly to a team that really didn't make it very far in that competition? Fans were confused, but Ellis has a plan. Her focus is on the World Cup tournament. She is training her players to all be flexible before the World Cup begins by moving them around on the field.
This is a great tactic because many players at a high level only identify themselves with one position. Ellis doesn't want that for her team.
Carli Lloyd, who was once an outstanding midfielder, is now playing primarily forward. Julie Ertz once let nothing by her as an outstanding defender, but now is scoring at midfield.
Although these are immense, sudden changes to the starting lineup, the team seems to be handling them well. The national team didn't completely fall out of their most recent game, which is impressive for having newer players on the pitch to start.
The women's national team will compete again many more times before the World Cup. Their next three games are Feb. 26 against Japan, March 2 against England, and March 5 against Brazil.         
It will be interested to watch the team progress.