Editorial: District can do more to help recycling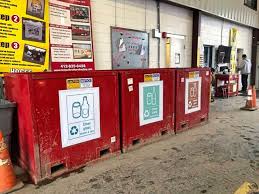 Recycling is an essential part of protecting the environment, yet Baldwin does not have a school recycling program. That needs to change.
Granted, starting a recycling program is not as easy as simply announcing it. An earlier recycling program at the high school ran into trouble when normal trash ended up in recycling containers. The school's custodial staff is small, and some waste companies are no longer accepting all materials in their recycling programs.
But those issues should not stop Baldwin from joining the many other area high schools that have recycling programs.
One possible starting point would be for administration to introduce a voluntary recycling program focusing only on paper at first.
If teachers were given the choice whether or not to participate, those who sign up would be staff members who feel strongly about recycling. They could instruct students in their classrooms about keeping waste and recycling separate, which should keep mixing problems to a minimum.
Even with a small custodial staff, some kind of rotating schedule should allow for each participating classroom to have recycling picked up once a week.
As the program develops, other recyclable material, like water bottles, could be added.
One of Baldwin's strong points is preparing students to be ready for the real world, from being academically ready by succeeding on Keystone tests to learning how to use the latest technology. But protecting the environment is also a real-world issue, and a high school recycling program would be welcomed by Baldwin students.