Inner Monologue Part 1 discusses emotional topics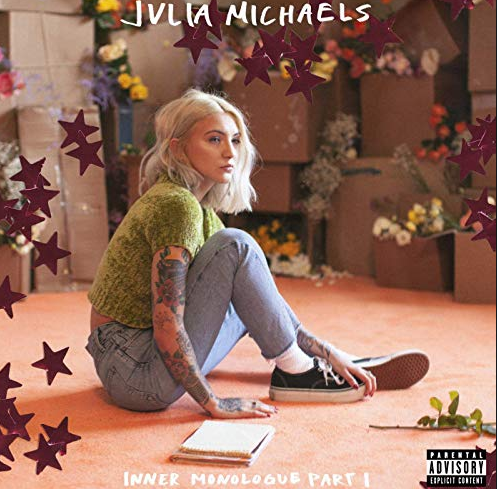 Julia Michaels' new EP, Inner Monologue Part 1, discusses coping with heartbreak with her relatable and emotion-filled lyrics, matched with an incredible blend of both acoustic and synth backings.
Michaels is a singer-songwriter who has written for some of the pop industry's biggest names, such as Justin Bieber, Selena Gomez, Demi Lovato, Shawn Mendes, and Fifth Harmony, to just name a few. Michaels does not fall short of authenticity, realism, and sentiment in the songs she wrote for this second solo EP.
Despite the meager six tracks on this EP, Inner Monologue Part 1 is able to maintain a storyline. The beginning half of the EP has a more melancholy tone and is about desperately trying to move on to find happiness. Then the last three songs focus on the good aspects of a love.
For example, the second song on the EP, "Into You," divulges the struggle of avoiding the people and places that are reminders of an ex, yet the song is still catchy and has a calming and soothing beat. Meaningful and relatable lyrics include, "Haven't been to my favorite restaurant in months. I can't drive down Santa Monica without thinkin' 'bout ya and what you're doin' now…I wish we didn't have so many friends in common."
"Happy," the third track, is the most candid and heart-rending song. The background music stops during the bridge, leaving Michaels' raw vocals, in which she passionately sings: "And sometimes I think I kill relationships for art. I start up all this to watch 'em fall apart…I just wanna be happy."
The ukulele on the fifth track, "Apple," provides imagery of happy daydreams about expectations for relationships, making for a more joyful, lighthearted listen and resonating sweet, summery vibes.
Two songs on Inner Monologue Part 1 are collaborations. One of the songs features Selena Gomez, and the other features former One Direction singer Niall Horan. Despite the surplus of collaborations, Michaels is not overpowered. Instead, the featured artists provide enhancement to the emotions portrayed.
Michaels once again proves herself as one of the industry's best lyricists with her new EP. The album, Inner Monologue, was split into two EPs; Part 2 has yet to be released, but hopefully Michaels will continue with the zeal that she shows in Part 1.