Column: Oscar nominations break new ground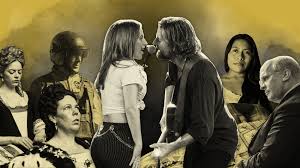 With the 91st Academy Awards just under a month away, It is time to take a look at this year's nominations and what they could mean for future award ceremonies and the film industry as a whole.
Ryan Coogler's Black Panther is the first superhero movie ever to be nominated for Best Picture at the Oscars. The film was seen as a leap in the right direction for black representation in the media, and the academy is throwing it right back into the spotlight to earn a potential seven awards come February. This is Coogler's first nomination from the academy, and will absolutely be a milestone in both his career and the Marvel cinematic universe if he wins.
Spike Lee has been chosen as one of five nominees for the best director category this year. Lee refused to attend the ceremony in 2016 due to an all-white lead actor nominee list, and three years later he is looking to net three awards this time around. If he wins, it will be seen as a major victory for minorities in the film industry, and show the world that diversity is an important aspect of Hollywood culture.
That's not all for record-setting nominations, as popular streaming service Netflix has received its first Best Picture nod with Roma, Alfonso Cuarón's latest film about a family maid in 1970s Mexico City. The last time Cuarón won an award at the Oscars was in 2014, for his film Gravity.
This would make it the first foreign language film to be nominated for both Best Picture and Best Foreign Language Film since 2013, with Michael Haneke's Amour seeing similar treatment from the academy, acquiring five nominations and one win. Roma is tied with The Favourite this year for most nominations at 10, twice as many as Amour was considered for six years ago.
Every recognition in outstanding filmmaking achievement brings a few disappointments, however, as Pittsburgh's very own Won't You be My Neighbor was seemingly snubbed from every major award category. Along with this was Suspiria, directed by Luca Guadagnino, whose film Call Me by Your Name won Best Adapted Screenplay the year before.
This years ceremony is sure to be an interesting one, so make sure to catch it February 24 on ABC at 8 p.m..
About the Writer
Guerin Balkovec, Staff Writer
Guerin is a senior and a first-year staff writer. He enjoys movies, music, and political discourse. He can be found arguing with random people in the hallways...