Lawrence shows unlimited potential in championship game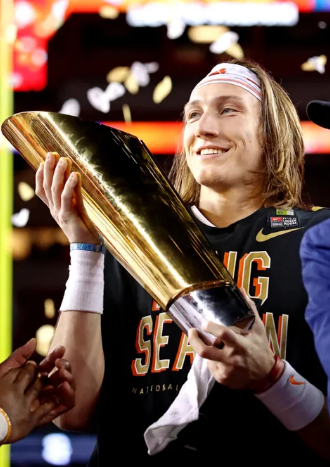 On a night full of stars with two of the most dominant undefeated college football programs in the game, iconic coaches, some of the game's premier talents and multiple future NFL first-round picks, a freshman stood out above the rest.
Clemson quarterback Trevor Lawrence proved to the world that he is college football's next star quarterback, leading the Tigers to a baffling 44-16 win over No. 1 Alabama in the College Football National Championship game Monday night.
Lawrence completed 20 of 32 passes for 347 yards and three touchdowns. He led his team down the field on numerous occasions, easily shredding an Alabama defense that had shut down every offense they faced going into Monday.
This Alabama and Clemson matchup had been heavily anticipated by most fans and analysts since the beginning of the season.
This game marked the third such game between the two teams in the championship game.
The game was seen as an anticipated shootout between Lawrence and Heisman finalist Tua Tagovailoa of Alabama.
A year ago, Tagovailoa had started the championship game as the backup to Jalen Hurts, but entered the game in the second half with the Tide trailing, only to lead them to an overtime victory over the Georgia Bulldogs and then claim the game's MVP. But this year, the quarterback matchup did not live up to the hype.
Lawrence shining so brightly under college football's biggest stage is impressive in its own right, not to mention who he was matched up against.
His offense put up 37 of Clemson's 44 points. He was poised in the pocket and not afraid to take a hit to create a big play.
Lawrence's performance is magnified by him being only a freshman. He has at least two more seasons of college ball left until he is able to declare for the NFL draft.
Because Lawrence is 6' 5'', 216 lbs, analysts already have projected him as a dream quarterback at the NFL level. He has all the intangibles to be great at the highest level.
It's hard not to overreact to Clemson's star quarterback's game. It feels like the best is yet to come for him.
NFL comparisons are flying in and Lawrence's presence in the pocket has drawn comparisons to the Indianapolis Colts' Andrew Luck.
Lawrence deserves all of the praise for being able to defeat a 14-0 Alabama team that looked unbeatable for most of the season by such a large margin. Lawrence might end up being the best college quarterback since Clemson's own Deshaun Watson, and the countdown is on to the 2021 draft.
About the Contributor
Austin Bechtold, Staff Writer
Austin Bechtold is a senior and this is his second year on the Purbalite. He can be found on the boys volleyball team, at major sporting events, and always...