Releasing two albums in 2018 only worked for some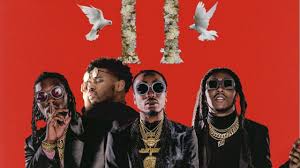 Hang on for a minute...we're trying to find some more stories you might like.
The music industry continues to be one of the most difficult to decipher. Between the various genres and plethora of artists, it is almost impossible to keep up with the constant evolution of music.
In 2018 alone, nearly 400 albums were released. This does not include EP's, singles, or even features of artists. From hip-hop and R&B to country and folk, 2018 had many honorable mentions as far as music fans are concerned.
It is hard enough to keep up with all of the new music that is released on a weekly basis, let alone an entire year. However, music fans know what is worth listening to, and what is not.
The first album of 2018 worth mentioning is Migos' Culture II. The famous rap trio made their mark in the rap industry in 2013 with their remix hit "Versace," which featured Drake. After releasing several albums throughout the years, fans anticipated the second edition of Culture to be just as good, if not better. However, as it goes for many artists, this album was not as a successful. Most fans can agree nothing will top the original Culture.
Next, five years after the release of The 20/20 Experience, Justin Timberlake fans knew it was going to be difficult to top the best selling album of 2013. As expected, Man of the Woods was not a fan favorite. Timberlake attempted to adopt a new sound with his album, and fans agreed he should just stick to the *NSYNC pop sound everybody knows and loves.
Some artists took it to the next level by releasing multiple projects throughout the year. Obviously this was to make more money, but listeners tend to prefer quality over quantity.
One example is rapper Tory Lanez, who released his first 2018 album, Memories Don't Die, earlier in the year and a second album, LoVE me NOw, near the end. Both albums proved to be successful among fans, as each captured enough catchy hits to keep the albums on the charts.
Kanye West also released two albums in 2018. The first one, ye, seemed to expose a different side of Kanye West that the world was not used to. Throughout the year, his Twitter account seemed to do the same.
His second album was a collaboration with Kid Cudi, an artist who fans have been waiting a long time to hear new music from. KIDS SEE GHOSTS was definitely better than nothing, but the duo probably could have done better.
Rappers such as Lil Yachty did not luck out nearly as much with releasing two projects throughout 2018.
Lil Yachty is not as much of a preferred artist as, say, Drake or J. Cole, but he does add his own unique sound to his projects. Similar to Migos, Lil Yachty released a second edition to his first album Lil Boat, and, to keep it original, titled it Lil Boat 2. Again, fans were let down because of the disappointing sequel. But Lil Yachty redeemed himself with his second project of the year, Nothin' 2 Prove. Still, some artists are just better as features.
The Weeknd's My Dear Melancholy is a prime example of how keeping it short and sweet can still prove to be very successful. The six-song album gave fans the perfect amount of R&B soul that is expected from the R&B king.
An unusual matchup between J.Cole's KOD and Post Malone's B&B took place nearing the middle of the year, as both albums were released only a week apart. As for Cole fans, most were disappointed with this project because it focused more on raising awareness of drug abuse rather than glorifying it as most artists tend to do. Ironically enough, Post Malone's album focused entirely on just that. So it is clear to see where the priorities lay in the rap industry.
A$AP Rocky obviously kept fans content with his release of Testing. There is not much to critique about an artist who has never released a bad song.
Drake kicked off the summer by releasing three hit singles before the release of his album Scorpion, so fans had high hopes of it being just as popular. Unfortunately, the album did not prove to be as successful as some of his previous albums such as Views or If You're Reading This It's Too Late.
Later in the year, another pair of artists were competing in the rap industry when Travis Scott released Astroworld on the same day Mac Miller released Swimming. Not that the two artists have ever been compared before, because they create two completely different sounds, and are equally worth mentioning, but as it goes the two albums were compared to each other for weeks to come. Fans of both agreed that each album was top notch for the preferred artist.  
A long-awaited Carter V was released nearing the end of the year and Lil Wayne fans are still raving about it.  
JID made his debut in 2017 with his album The Never Story, and his album Dicaprio 2 met the standard for his fans. Although he is an uncommon artist in the rap industry as of now, he has a lot of potential considering he worked with artists such as J. Cole, A$Ap Ferg, and even Mac Miller to create his latest work.
The last two rap albums worth mentioning in 2018 are A Boogie wit da Hoodie's HOODIE SZN, and 21 Savage's I Am>I Was. A Boogie is known for his "hype" beats and unique lyrics, and that is exactly what came with HOODIE SZN. 21 Savage, on the other hand, is a wild card when it comes to his music: fans never know what they are going to get. However, I Am>I Was included many unique features such as J.Cole, Childish Gambino, and Travis Scott.
The female artists of the music industry were subtly mixed in throughout the year, but their powerful music was not subtle at all.
Kali Uchis released Isolation early in the year and set the common of theme female empowerment that was prominent  throughout the rest of the year. Focusing on the importance of individuality, confidence, and self-acceptance, other female artists encapsulated this in their work as well.
Despite their alleged "beef" with each other, Cardi B and Nicki Minaj both released albums in 2018 that sat well with their fans. Invasion of Privacy and Queen served as anthems for the fans of the female rappers.
Other female pop artists such as Ariana Grande and Alessia Cara also were successful in creating albums that were nothing short of iconic. Sweetener gave Ariana Grande fans the angelic vocals they expected. Alessia Cara proved herself as more than another pop sensation with a few good hits with Growing Pains.
Needless to say, 2018 had some very memorable albums, as well as many that will probably be forgotten within the coming years. As music evolves, it is important to music connoisseurs to stay up to date on all of the latest hits, and of course critique the ones that are just not good.
About the Writer
MacKenzie Sendro, Multimedia Editor
Multimedia Editor MacKenzie Sendro is a senior and this is her third year on the Purbalite. She can either be found binge-watching any series on Netflix,...