Panthers miss opportunities in mediocre season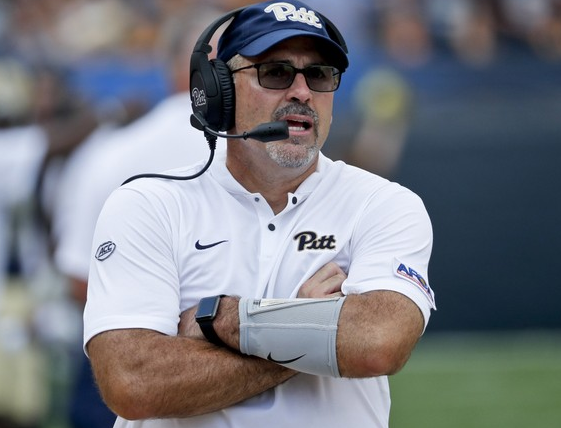 Although the Pittsburgh Panthers won their first ever ACC Coastal Division title this season, they missed plenty of key opportunities and have left fans puzzled.
The Panthers came into the season with one of the toughest non-conference schedules. They lost three of their four non-conference games but all three teams that beat them — Penn State, UCF, and Notre Dame — were ranked in the Top 25.
Once conference play started, they surprisingly dominated and went 6-2 in conference play. Their only ACC losses came to a weak North Carolina team and a strong defensive team in Miami.
They entered their last three games with a 7-4 record and on a four-game winning streak, where they had averaged about 41 points per game. However, in their last three games it was the complete opposite. Their offense went quiet and they had a poor showing in the ACC Championship Game, losing 42-10 to Clemson, and then they lost 14-13 in the Sun Bowl to Stanford.
Throughout the season there were many positives to take away, but there were just as many negatives.
To start, the Panthers saw a drastic improvement on defense, especially later in the season.
Several underclassmen stepped up and performed in big roles, including junior Damar Hamlin, who played in his first full season. Hamlin finished as the leader in tackles and interceptions on defense.
Also in the secondary, the cornerback duo of junior Dane Jackson and sophomore Jason Pinnock proved to be a bright spot this season, as their speed and ability to break up passes were important for Pitt. Sophomore defensive lineman Rashad Weaver and sophomore linebacker Elias Reynolds stepped up and helped the Panthers' rush defense.
The Panthers also saw an increased role of the running game and the dynamic duo of seniors Qadree Ollison and Darrin Hall, who combined for 2,211 rushing yards and 20 touchdowns. As they both leave and hope for a potential future in the NFL, they will be replaced by sophomore A.J. Davis, who has the ability to be just as impressive as Hall and Ollison.
On the other hand, sophomore quarterback Kenny Pickett has regressed instead of improving in his first full season starting. His inability to accurately throw the ball and make smart decisions held the Panthers from being a great team this year.
A lot of blame for the ineffective pass game falls on offensive coordinator Shawn Watson. Watson's play calling in important situation was awful and proved disastrous throughout the season. Watson's short tenure in Pittsburgh should come to an end during the offseason as Pitt cannot afford to go through another year with him at the helm of the offensive play calling.
As Pat Narduzzi closes his fourth season as head coach at Pitt, he is 0-3 in bowl games and next season will need to be impressive for him to remain at Pitt.
However, Narduzzi has already signed some important recruits who can make an impact in the next few seasons.
Some names to keep an eye on include incoming freshman quarterback Davis Beville, who could compete for the starting position next year along with Pickett. Also, local three-star wide receiver Will Gipson could help next season in the passing game. The Panthers also signed another four-star running back, Daniel Carter, who as well could compete for some time at the running back position.
Even though the Panthers had a mediocre season, finishing 7-7, they improved more than they declined. Their defense showed a big improvement and the running game seems to be the staple going forward at Pitt. With the players they have signed so far and the returning starters next year Pitt, might once again have a chance to win the ACC Coastal Division and more.
About the Contributor
Nathan Breisinger, Sports Editor
Sports Editor Nathan is a senior and this is his third year on the Purbalite. He plays hockey and baseball and he can be found watching, listening, or...