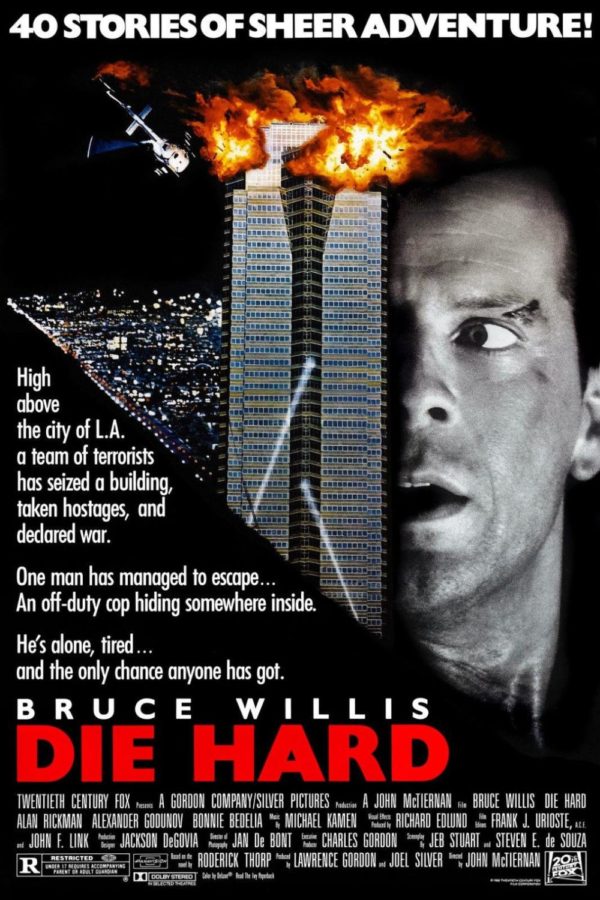 The 15 School Days of Christmas: Opinion: Die Hard is not a Christmas movie
© IMBD
The 15 School Days of Christmas: Opinion: Die Hard is not a Christmas movie
People love to debate whether the chicken or the egg came first, or if water is wet. However, this is the real question: Is Die Hard a Christmas movie?
Although Die Hard is mainly played around Christmas every year, Die Hard is simply not a Christmas movie.
The main reason is that all Christmas movies have some sort of positive holiday message. Die Hard has no real Christmas-like theme; it simply is about Bruce Willis doing Bruce Willis things.
Even more evidence is that Christmas is only a backdrop for the rest of the plot, instead of Christmas being integral to the main plot.
For example, the movie could just as easily have taken place during a Halloween party or a New Year's Eve party. Nothing would change other than the weather outside during the movie.
Die Hard sadly falls victim to the Christmas season curse. If a movie is released during Christmas season, it will be overwhelmed by Christmas in viewers' minds. Home Alone is a perfect example of the Christmas curse.
Home Alone is just about a kid getting left home alone and robbers attempting to break into his house. The same thing would still happen if it was any other time of year.
A couple of ways to escape the Christmas curse is by placing the movie after Christmas or not even mentioning Christmas during the movie.
People say that since Die Hard is played mostly during Christmas, that makes it 100 percent a Christmas movie. But the only reason it is played during Christmas is because it is marketable only during Christmas — because when an audience sees Christmas in a movie, that is all they think about.
But machine guns and people dying does not scream Christmas.
Literally the only argument for Die Hard being a Christmas movie is that the setting happens to be at a Christmas party.
Bruce Willis even said it's not a Christmas movie. It's a Bruce Willis movie.
What more proof do people need? Just because people like to watch it on Christmas does not mean it is a Christmas movie.