This season is the beginning of the end for the Warriors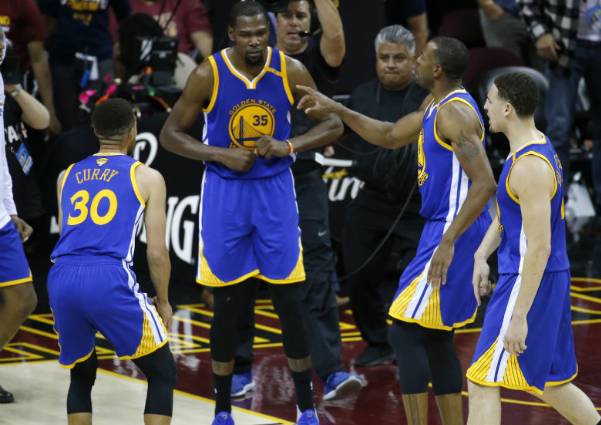 All dynasties in the history of the NBA have one thing in common: they fall apart due to the departure of their most talented player.
The '80s Lakers, '80s Celtics, '90s Bulls, and 2000s Spurs were all never the same after Magic Johnson, Larry Bird, Michael Jordan and Tim Duncan.
The same could be said for the Golden State Warriors this decade.
Recently, conflict has become a common occurrence both on the court and inside the locker room for the back-to-back champs. Finals MVP Kevin Durant and team leader Draymond Green have clashed over Durant's upcoming free agency.
Durant has clashed with Green on the court and has brought an awkward feeling to the Warriors that has not been felt since their success began during the 2014-15 season.
This season completely differs from last in terms of what Durant could do in the offseason. Going into this season, Durant was a free agent, but he quickly resigned with Golden State and did not consider any other options.
Durant, the top free agent in the 2019 class, has been rumored to potentially be ready to leave the Warriors and some think his decision is already made. Steph Curry may be the most valuable player for Golden State, but Durant possesses the best overall talent.
Along with Durant, Klay Thompson is also a free agent the same summer the Los Angeles Lakers are looking for a No. 2 star alongside LeBron James. Thompson could also look for an expanded role and be the No. 1 guy somewhere else.
All dynasties eventually fall apart and this could the moment that turns the tide against the Warriors.
Yes, the Warriors won 79 games the season before Durant arrived, but the league is changing to copy Golden State's fast pace three-point shooting offense. Teams like Houston, OKC, and up and coming Utah are on the rise and will become harder to defeat as time goes on.
With the potential departure of Durant and possibly even Thompson, fans may be witnessing the beginning of the end in Golden State.
The Warriors have lost three in a row for the first time in a long time, and Curry has been missing for a couple weeks with a left abductor strain. The growing tension in the locker room could push out Durant out and start the downfall of Golden State.
About the Contributor
Austin Bechtold, Staff Writer
Austin Bechtold is a senior and this is his second year on the Purbalite. He can be found on the boys volleyball team, at major sporting events, and always...