Injury cuts short comeback effort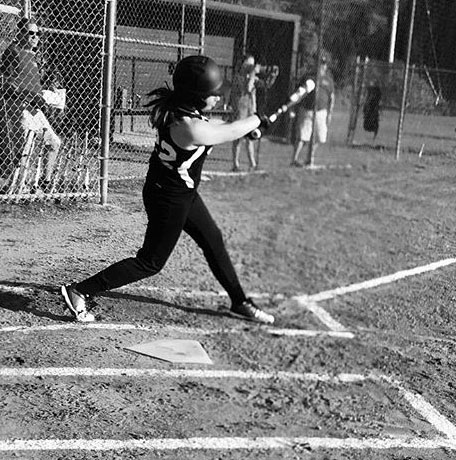 This year started off as a great comeback story for senior slow-pitch softball player Jenna Stefanyszyn, but then it turned into a difficult disappointment.
Back in eighth grade, Stefanyszyn was enthusiastic about continuing her slow-pitch career as she got ready for high school. But she hurt her knee in the summer before freshman year, and the injury was so serious that she stayed away from softball for the next three years.
"I was really scared and upset because I thought I would never play again," Stefanyszyn said.
After being sidelined for two years and staying away junior year out of concern about the injury, Stefanyszyn decided to come back for her senior campaign. She got off to a strong start.
Stefanyszyn was batting third in the lineup and averaging four hits per game. She also was doing well on the defensive side of the ball.
"It felt like I was on a cloud. It didn't feel real," Stefanyszyn said.
Being able to come back was important for another reason: It reunited Stefanyszyn on the field with fellow seniors Natalie Zgurich, Jenna Tarson, Kiarra Sutton and Shalynn Sciulli, who had started playing together when they were 6 years old.
"All of us have really good chemistry. It's like an unspoken bond between us," Stefanyszyn said.
Stefanyszyn had one more reason for coming back to softball: her grandfather. Stefanyszyn's grandfather coached her while she was playing softball as a youth. He passed away in 2012.
Stefanyszyn decided to return for her senior because of her grandfather as well.
"I felt like I lost that connection to him and wanted to get that feeling back," Stefanyszyn said.
Everything was going so well at first. Sciulli said that having Stefanyszyn back on the team provided a boost.
"Jenna is a really good friend and just as good of a player, especially at hitting," Sciulli said.
Then, in early October in a game against North Hills, she was hit by another injury. As she jumped up for a ball to make a play at second base, she landed awkwardly.
Stefanyszyn said she could hear her ligaments tear and immediately knew it serious.
She was diagnosed with torn ligaments in her knee, causing her to miss the rest of her senior season. She also will not be able to play in college.
"It was heartbreaking. I cried for a long time after," Stefanyszyn said.
First baseman Kiarra Sutton said Stefanyszyn was pretty upset by the injury, but she tried to stay as positive as she could for the rest of the team.
"She was also our hype man and would always mess around to keep us energetic," Sutton said.
Even though her slow-pitch softball career is over, Stefanyszyn hopes to still be involved in the softball community and eventually coach some day.
About the Contributors
Tyler Zeman, Staff Writer
Tyler Zeman is a senior and a third-year staff writer. He can be found on the soccer field or outside doing outdoor things. 
Adam Goldsboro, Multimedia Editor
Adam Goldsboro is a senior Multimedia Editor in his third year on staff, and he can found on the soccer field or the basketball court.


Liam Belan, Multimedia Editor
Multimedia Editor Liam is a senior and this is his third year on the Purbalite. He plays soccer and is constantly watching or playing sports. He also enjoys...