All-night fundraiser comes to Baldwin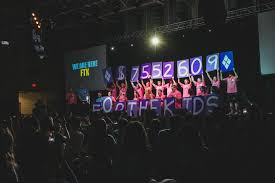 Students planning Baldwin's first Mini-THON to fight childhood cancer cite a variety of reasons. For junior Paige Young, the motivation came from a cousin at Penn State, where the THON concept was started.
"I have a cousin who does the THON at Penn State and I want to do it there someday too," Young said. "Participating in a Mini-THON at school is a great chance for me and other students to get our feet wet."
Nearly 300 high schools and middle schools across the country participate in Mini-THON, a months-long fundraiser to battle childhood cancer that wraps up with an all-night celebration at school. Penn State's THON event inspired the Mini-THON concept. Both models raise money for pediatric cancer care and research.
A team of 11 staff members is working with about 80 students to plan Baldwin's Mini-THON, which will include fundraisers throughout the year and will culminate with an all-nighter at the high school on March 15.
Some fundraisers have already begun. The girls volleyball team collected donations at a tournament Baldwin hosted, Steelers tickets and gear were raffled off at the homecoming football game, and several student events during homecoming week raised money for Mini-THON.
Leah Younkins, one of the staff members organizing the Mini-THON, is a Penn State alum who participated in THON there. She is thrilled to have the high school version of the event come to Baldwin.
"We're all so excited," she said. "It's a great opportunity for the kids and the school, and we can't wait for it to happen."
Organizers have been impressed by student enthusiasm, according to Jason Dolak, another staff member on the Mini-THON team.
"We had two introductory meetings and they were outstanding," he said. "Student support for the Mini-THON has far surpassed what we were expecting."
Students organizing the Mini-THON have signed up to help with one of five committees: entertainment, responsible for planning activities for the all-night event; hospitality, taking care of food for the event; fundraising, in charge of planning and running all fundraisers; finance, in charge of student registration and online donations; and public relations, responsible for publicizing fundraisers and the event.
Among the events under consideration for the all-night event in March are the talent show, a dance competition, a cornhole tournament, painting lessons, and cupcake decorating.
Students on the Mini-THON team want Baldwin's event to continue to grow each year. Senior Alexis Shandor, a student member of the Mini-THON committee, said students would like Baldwin's Mini-THON to eventually match those that have been held at other area schools.
"We're hoping in the long run we can match South Fayette. They have one of the best Mini-THONs in the area," Shandor said.