Riverhound fans await success next year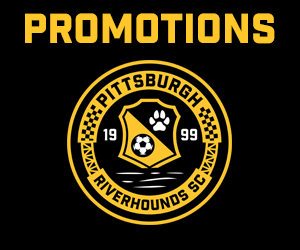 Despite a penalty shootout loss to Bethlehem Steel in the first round of the playoffs, the Pittsburgh Riverhounds had an outstanding season.
The Riverhounds stunned the United Soccer League this season, finishing third in the East behind two big teams: FC Cincinnati and Louisville City.
The Hounds finished the regular season with 15 wins, 14 draws, and five losses to give them a total of 59 points. That's nearly more than they had the past two years combined. In 2017 they ended with 36 points and in 2016 they had 25 points.
This year's playoff appearance was their first since 2015, when the Hounds lost 2-1 in the first round to New York Red Bulls II.
The Hounds couldn't have pulled off such a turnaround without help. The Rochester Rhinos took a hiatus this season, and Pittsburgh picked up Rochester's head coach, Bob Lilley, who is known for being able to build winning teams with a low payroll.
The Hounds also picked up two key players who were let go by the Rhinos: midfielder Cristiano Francois and defender Raymond Lee.
The Hounds opened the season on March 24 away against Nashville SC and ended in a 0-0 tie. After that the Hounds were on fire, not taking their first loss at home until playing against FC Cincinnati on May 23. After that they would only lose four more times.  
This allowed them to stick with the top teams in the East, which led them to making the playoffs.
Although the season didn't end like everyone wished, there are still big expectations for next year.