Basement's new release has more mature sound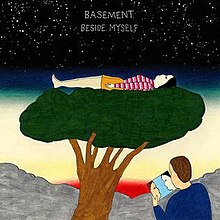 Picking up where they left off on their acclaimed 2016 release Promise Everything, the British band Basement has done it again with the alt-grunge inspired record, Beside Myself.
The band's mainstream attention began in 2011, with the release of their debut record, I Wish I Could Stay Here. Since then, each release has become more and more rugged, with smooth bass riffs overpowering dissonant guitar chords.
The vocal melodies have followed this trend as well, with the latest album suggestive of earlier emo bands like Jimmy Eat World.
Despite this maturation, their lyrics have remained poignant and robust. The title, Beside Myself, describes frontman Andrew Fisher's internal and external feelings of loss.
Similar to earlier emo trends, most songs on this album have a catchy chorus, guaranteeing this record's place among the classic staples of the genre.