"First Man" features mediocre take at moon landing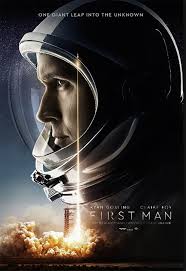 Though the 1969 landing on the moon is one of the most dramatic developments in human history, viewers don't really get that feeling from watching First Man, the motion picture that explores the life of astronaut Neil Armstrong.
While the movie does show the story behind the events that led up to Armstrong's trip to the moon, it does so in a dry way.
The movie does a decent job portraying the emotional death of Armstrong's daughter. But Armstrong, played by Ryan Gosling, comes across as very emotionless the majority of the time.
First Man does a better job exploring the facts about the historical events surrounding the moon landing rather than creating an interesting story. The movie also lacks sufficient exploration of Armstrong's marriage to his wife, Janet, excluding much of her point of view.  
More background on Armstrong's character, including his path to becoming an astronaut, would have given the movie much more context and would have provided a fuller story.
Armstrong's life and accomplishments as the first man to walk on the moon are compelling and important, but viewers won't really get a full understanding of that by watching this movie.  
About the Contributor
Grace Esposito, News Editor
Grace Esposito is a senior news editor in her third year on staff. She can usually be found either procrastinating on her homework or taking long walks...