Supreme brand takes exclusivity to ridiculous levels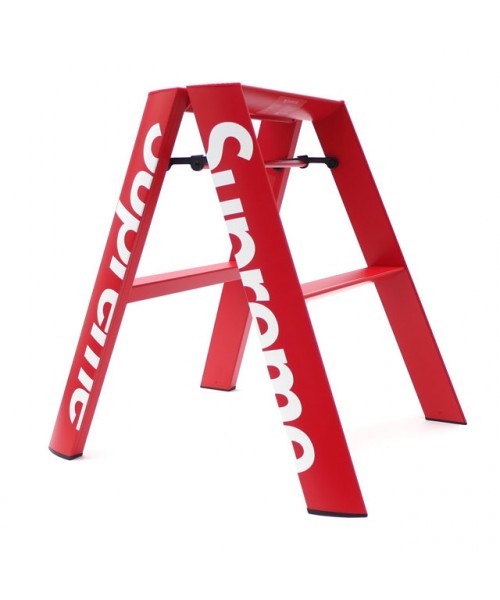 The Supreme brand was founded 24 years ago, and yet it still drops new items to this day, racking up a net worth of about $1 billion. One would think that a brand worth so much would be creating new and innovative products, but the Aug. 30, 2018, drop list would say otherwise.
Alongside the hats, t-shirts, and other clothing apparel fitted with designs from Supreme headquarters came a step stool collaboration between Supreme and the Lucano step stool company.
A normal step stool from the company costs around $130 on Amazon, but the Supreme collaboration costs $228.
One would assume this step stool has some sort of innovation, but it does not. The only differences are the red color and the single word, "Supreme," painted on the side.
This isn't necessarily the whole problem, however.
The bigger problem comes when resellers, or people who buy expensive and rare items simply to sell them to other people for a profit, come in and try selling this step stool for an increased price on resale websites such as StockX.
A rational person would never spend more than $300 including shipping, the resale price, for a step stool with branding on the side, but Supreme items are different.
These Supreme items are selling out within seconds of being released because Supreme purposefully releases limited amounts of clothing, therefore making its brand name exclusive. This draws the attention of young people who want to express how much money they have to everyone else.
Since these items are so hard to get, people are willing to pay resellers increased prices just so they can get their hands on something with the Supreme logo on it.
The only reason Supreme is so coveted is because the so-called streetwear community says so, and because the brand is extremely rare and hard to find, only boasting 11 stores worldwide.
This brand used to be based on people who actually skated, but it has now turned into an easy money-grab for resellers without any real meaning. This is quite sad, as the first store, opened in Manhattan in April 1994, was created with a unique design of clothes lining the perimeter of the store.
The store was set up this way so that skaters with backpacks could skate into the store comfortably. The Supreme brand appealed to hip-hop and rock culture, and mainly blew up because influential figures such as Drake and Kanye West were seen wearing the brand.
When such influential figures wear anything, young people who look up to these celebrities try to copy their style, making even the most ridiculous clothing items seemingly normal. The hype over Supreme is something more, as the brand has become so coveted that people will jump on anything with its logo on it, no matter how useless the item is.
The hype surrounding the brand makes it seem like everyone must own some of its apparel to feel confident, but in reality, people can simply wear what they like and be happy.
It may be nice to get everyone else's approval, but in the end, even when someone does buy real Supreme, it often is assumed to be fake, therefore not getting anyone's approval anyway.
The idea of paying for a brand as opposed to paying for the actual product or quality is getting out of hand. It's simply done because of the influence of celebrities, and that's very unfortunate for the state of streetwear.
About the Contributor
Mason Hurley, Staff Writer
Mason Hurley is a junior and second-year staff writer. He always has a clean pair of Jordans, Nikes, Adidas, or Yeezys on, and may be seen in bright yellow...