Opinion: LeBron will lead Lakers to NBA title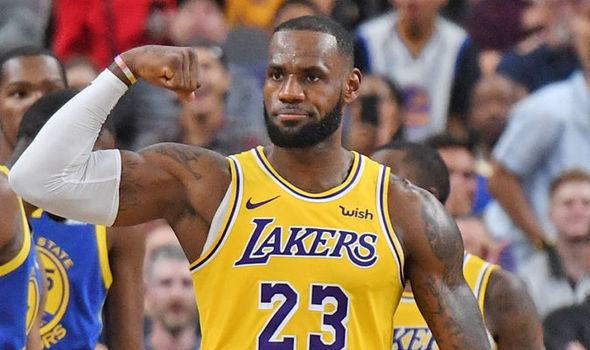 The NBA preseason has just ended, giving fans a taste as to what is soon to come this season. Notable stars such as Lebron James, DeMarcus Cousins, and Kawhi Leonard have all found new homes over the past offseason. The shocking events that transpired over the offseason leave fans pondering how this season will turn out.
This season will be very interesting, because some of the best teams only got better, and some teams will feature entirely new looks.
The back-to-back reigning NBA champions, the Golden State Warriors, will most likely continue their success, especially now with their newest addition, four-time all star Demarcus Cousins. Other top competitors in the Western Conference will most likely include the Houston Rockets and the Los Angeles Lakers.
The Western Conference Finals will most likely feature the Golden State Warriors and the Los Angeles Lakers.
The Warriors will have a monster lineup of five all-stars, and MVPs. The Lakers, on the other hand, added four-time MVP — and the best player in the league right now — LeBron James to their young core. They also added other notable players such as Rajon Rondo and JaVale McGee. This should be the year the Warriors are dethroned in the West for the first time in four years.
Now that LeBron has moved to the West, for the first time in eight years, fans will see a James-less team crowned champions of the East. With the return of 2017 all-star Gordon Hayward, the Boston Celtics are the first picks to take the crown. After Boston, the young Philadelphia 76ers also have a chance to return to the finals for the first time since 2001.
Although the Toronto Raptors were knocked out of the playoffs early, they took the first seed in the East last year. This year will probably be a bumpy road for them, after their blockbuster trade, shipping out four-time all-star DeMar DeRozan for two-time defensive player of the year Kawhi Leonard.
As for the NBA Finals, it will be the Los Angeles Lakers beating the Boston Celtics in six games.
About the Writer
Matt Storms, Staff Writer
Matt Storms is a senior and a first-year staff writer. He enjoys watching sports, movies, and listening to music.