UFC 229 set to be a fight for the ages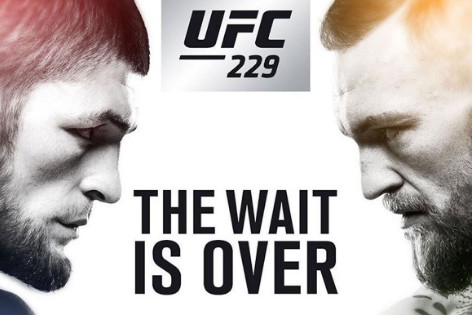 The UFC has quite possibly the toughest fighters and the most brutal, authentic fighting experience of any league in the world. But just like the WWE, the UFC also often uses a compelling storyline to promote a big fight. It just so happens that the main event of UFC 229 is being hyped up by a previous incident between fighters Conor McGregor and Khabib Nurmagomedov.
An incident erupted between the two fighters back in April when McGregor attacked Khabib's bus after an alleged incident which involved Khabib getting into an argument and slapping Artem Lobov, a fellow fighter and close friend of McGregor's. Following the incident Conor charted a private plane from Ireland to the Barclay's Center in Brooklyn just to get back at Khabib. The incident involved violent threats, equipment being thrown at the bus, and several injuries sustained to the people on the bus.
Clearly there is some bad blood between these fighters, but there's so many other reasons to watch this fight, as it may be one of the most interesting lightweight championships ever.
One of the biggest factors that will make this fight memorable is that this is the long-awaited return of the Notorious Conor McGregor to the UFC octagon. McGregor has taken a two-year hiatus from MMA after focusing on his home life with his son and trying his hand at boxing, and of course taking on undefeated boxer Floyd Mayweather Jr. in a fight for the ages.
One of the things that fight fans have always found entertaining is that McGregor always takes on the toughest fighters possible, and in this case he arranged a fight with quite an adversary. Khabib has become one of the UFC's ultimate attractions, the first Russian fighter and first Muslim fighter to win a UFC title — not to mention he holds the longest ongoing undefeated streak with 26 wins. Not only has Khabib never lost a UFC fight, he's never even lost a round, making him an opponent who really matters.
A lot of people seem to think that Khabib has an advantage over McGregor because of his brutal and relentless wrestling style, a factor that has often led to McGregor faltering. However, many forget that McGregor possesses superb boxing abilities, which have won him fights in the past with an unstoppable left hook.
Even without the stats and the projections, fans are promised a good fight. Anything with Conor McGregor's name on it is going to draw attention, and anything perfect that has the chance of continuing or being squandered is going to draw attention. This fight is set to be one of the biggest of all time, and could be talked about in the same category as Liddell vs. Ortiz, Lesnar vs. Mir, or Cormier vs. Jones.
The fight is set to take place Saturday in Las Vegas, where both fighters will give performances that are sure to not be forgotten in a lightweight championship for the ages.
About the Writer
Jaiman White, Multimedia Editor
Multimedia Editor Jaiman White is a senior and this is his third year on The Purbalite staff. Jaiman can be seen in his natural habitat, in the back corner...