Whitehall fourth grader earns spot at Augusta National golf course competition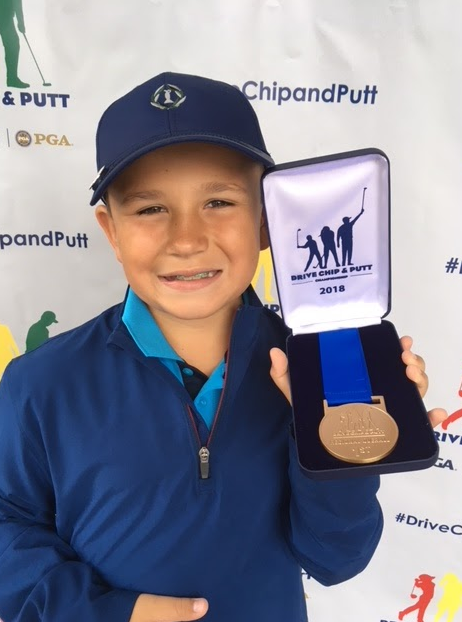 When he was 2 years old, Whitehall fourth-grader Michael Quallich played with plastic golf clubs. In April, he will be playing at Augusta National, one of the most prestigious golf courses in the world.
Last Saturday, Michael competed in the regional level of the Drive, Chip, and Putt competition in Columbus, Ohio, where he was the only one from his 7- to 9-year-old age group to advance. The competition is the golf equivalent of youth football's Punt, Pass and Kick program.
Earlier, Michael had competed in the local round at Green Oaks Country Club in Penn Hills, where there were 36 other golfers in his age group. Michael came in second place there, moving on to the next round at Nemacolin Woodlands at Mystic Rock, where he came in second place again.
After succeeding in Columbus, Michael gets to compete in Augusta, Georgia, at Augusta National, home of the Masters Tournament.
Michael has loved golf for a long time.
"I like golf so much because it is a challenge and it is fun at the same time, and because you can play with whoever you want." he said.
Michael has been golfing for so long that he does not even remember how he started.
His mom, Melissa Quallich, and his dad, Justin Quallich, are thrilled with Michael's golf journey.
"We are so proud of his determination," Justin Quallich said. "Being older and being his parents, we understand better what winning this means. We are beyond excited for him."
Michael revealed his secret to how he became such a good golfer.
"I practice a lot. For the last three-and-a-half months, I practiced every single day," Michael said.

Before Saturday's competition, Michael got there hours early to practice. When he arrived it was raining, but even that did not stop him.
"We stood outside in the rain for almost three hours so that he could practice," Justin Quallich said. "I am so proud of him and his determination to do better."
Michael is only in Whitehall Elementary School, and at that level there is no golf team. But Michael was invited to practice with the high schoolers by golf Coach Steve Sinning.
The pair met when Michael was in kindergarten and Sinning was running an after-school golf program.
"I have never seen a fourth-grader this good," Sinning said.
Michael has already accomplished so much in his golfing career.
"My only goal now is to become a pro golfer," Quallich said.
About the Contributors
Natalie Zgurich, Sports Editor


Sports Editor Natalie Zgurich is a senior and in her third year on the Purbalite. She is most likely on the tennis court or walking her dog. She also...
Anamarie Martinez, News Editor


News Editor Anamarie Martinez is a senior and this is her third year on the Purbalite. She can be found binge-watching Netflix instead of doing her...